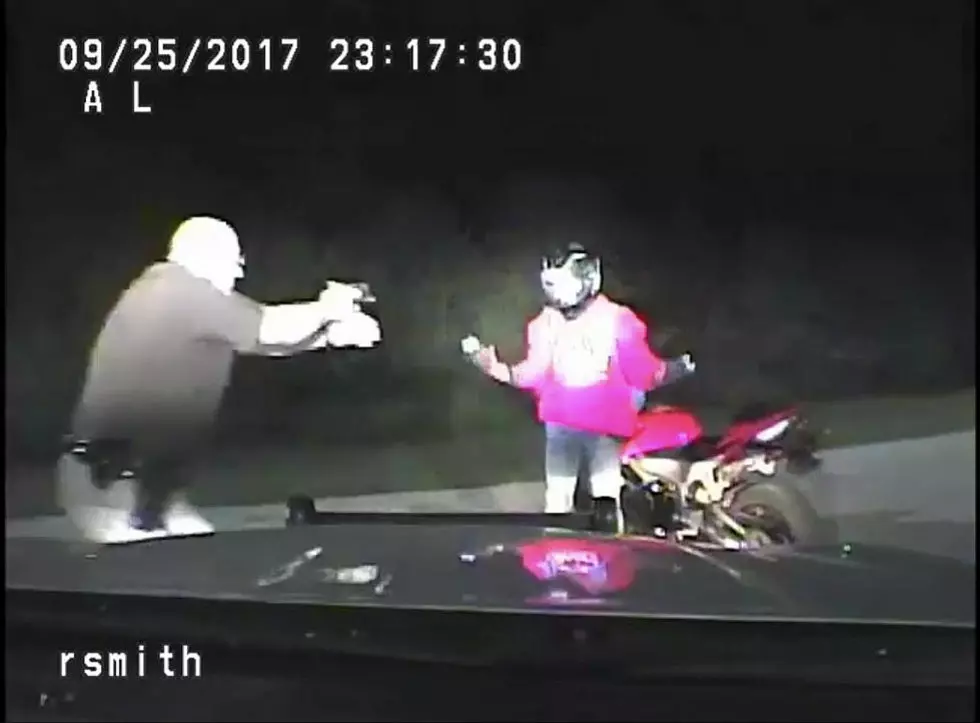 Former Iowa State Trooper Pleads Guilty to Excessive Use of Force
WKRG Channel
As we covered last November, Robert James Smith of the Iowa State Patrol was charged by a federal grand jury with violating a motorcyclist's civil rights by using unreasonable force.
Smith has been accused of using excessive force several times in his career as a state trooper, but this particular case came in 2017. These were the details we shared of the incident in our report last year:
"That motorcyclist, Bryce Yakish, was pulled over for speeding at a gas station near West Liberty, about 15 miles away from Iowa City. What appeared to be a routine stop quickly turned sour.
Exiting his vehicle, the state trooper immediately drew his firearm, pointing it directly at Yakish, who had his hands in the air. Smith promptly swatted the then 20-year-old in the face shield of his helmet, sending Yakish backward, falling onto his motorcycle and then to the ground."
You can see the described interaction between Smith and Yakish here:
As of now, KCRG reports that "Smith admitted he used unreasonable force and disregarded the law during the incident."
The case went to trial in July of this year, but a verdict was not reached. This time around, Smith is pleading guilty to the charge.
When the news was shared that Smith was being charged last year, Iowa News Now added the following information regarding what happened after the arrest was made in 2017:
"Smith briefly put his knee on Yakish's neck while handcuffing him. Yakish can be repeatedly heard in the video complaining of neck pain. Smith falsely accused Yakish of trying to flee and charged him with eluding law enforcement, even though Yakish stopped immediately after Smith activated his patrol car's lights and siren. That charge was dropped after a prosecutor reviewed the video and concluded it was baseless.
Yakish lost his license because of the arrest, his motorcycle was impounded and he spent the night in jail."
Following the incident, the Iowa State Patrol allowed Smith to quietly retire in 2018 after serving 30 years on the force.
He went on to take a police job in the small town of Durant, where he was once again accused of using excessive force on a woman during an arrest.
The site continues:
"Smith's use of force during the 2017 traffic stop only became public in 2019 after The Associated Press published video of the incident obtained from Cedar County Sheriff Warren Wethington. ... Wethington said the federal indictment comes after two prosecutors in Iowa — the Cedar County Attorney and the former Muscatine County Attorney — reviewed the stop and determined that state charges weren't warranted."
Wethington said this of the incident:
I think it's really important that the taxpayers know that this was overlooked by two local county attorneys.
After a lawsuit was put forth by those representing Yakish, a state panel agreed to pay him $225,000 from the state budget to settle the case.
Some Iowans Will Appear in One of 2022's Most Popular Video Games
A few kids that grew up right here in Iowa will represent their home state in this year's edition of NBA 2K23. They'll be joined by a few guys representing the Hawkeyes and the Cyclones.
Amazing $3 Million North Liberty Home Sits on 27 Acres [PHOTOS]
This 5-bedroom home has 5 full bathrooms and is nearly 10,000 square feet. Located close to Coralville Lake it has an in-ground pool, hot tub, 4 fireplaces, and so much more. It's priced at $2.95 million. The listing agent is Gwen Johnson of Skogman Realty.
https://cbs2iowa.com/news/local/ex-iowa-trooper-facing-federal-charge-over-2017-traffic-stop