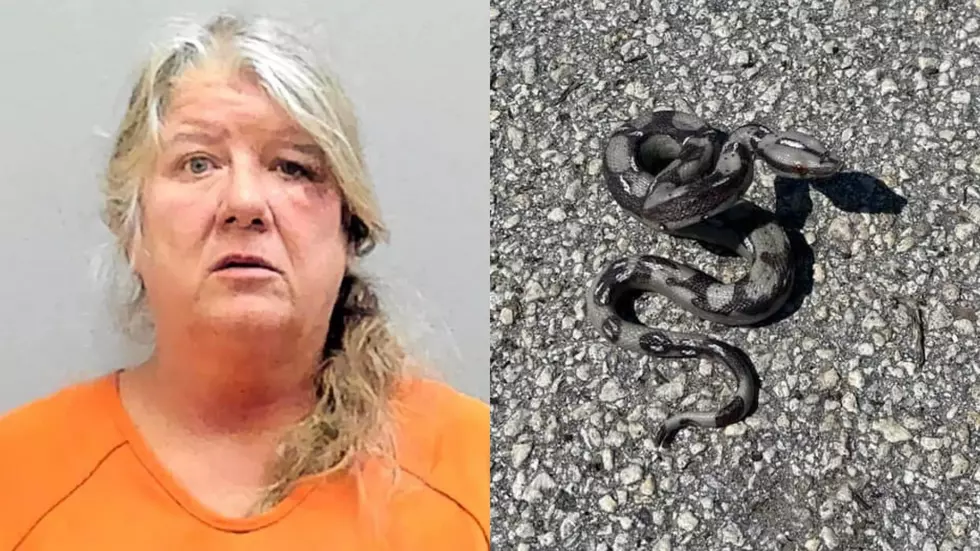 Florida Woman Hits Officer's Squad Car, Swerves and Throws Fake Snake To Evade
Martin County Sheriff's Office
A woman was arrested after she crashed into multiple vehicles, threw a fake snake at deputies in an attempt to get out of a traffic stop on Wednesday afternoon, according to Martin County Sheriff's deputies.
Officials say 54-year-old Dawn LaShawn Laprade, with additional charges possible, such as four counts of aggravated assault on a police officer, and fleeing and eluding.
According to investigators, the chase began when the suspect intentionally hit a Martin County Sheriff's Office vehicle as she attempted to flee a traffic stop.
Laprade fled deputies, driving at speeds as high as 100mph, hitting another patrol vehicle belonging to the Martin County Sheriff's Office. A civilian truck was also struck by Laprade and her vehicle, injuring all three people inside.
"While driving, she motioned to the deputies that she had a gun, and drove erratically trying to cause them to crash," the sheriff's office said in a Facebook post.
When deputies were finally able to approach Dawn Laprade, she threw a fake rubber snake at the deputies.
Four people were transported to the hospital with non-life-threatening injuries following the traffic crashes, deputies said.
According to the office's Facebook post, the deputies hit by the woman were not injured in the crashes.
54-year-old Dawn LaShawn Laprade was booked into the Martin County Jail on many charges, with the other charges of aggravated assault on an officer still pending.
Her cash bond has been set at $90,000.
Read more on the Martin County Sheriff's Office Facebook page.
Inappropriate And Funny Bumper Stickers in the Quad Cities
Yes, these car stickers have actually been spotted in the Quad Cities.