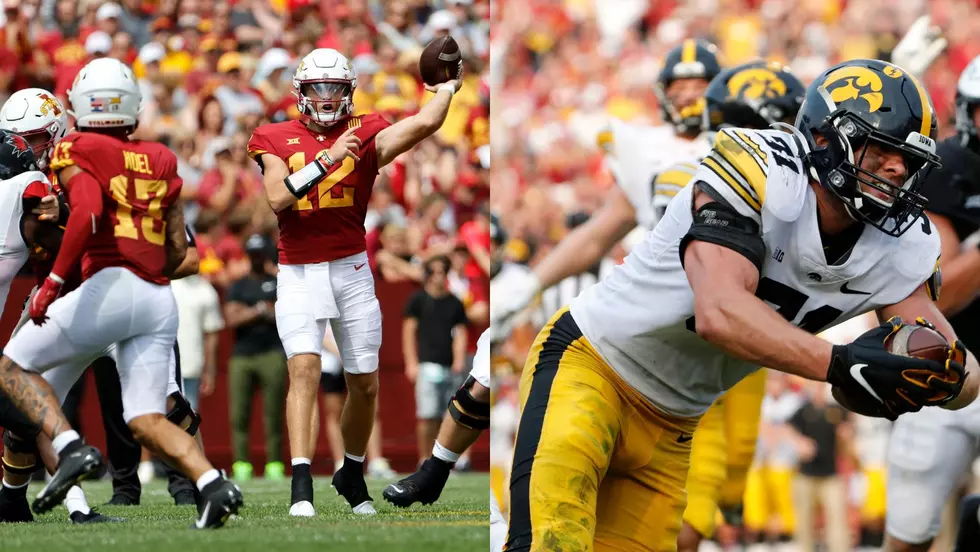 Every Iowa High School Football Player in the Cy-Hawk Game
Getty Images / Canva
Every kid that grows up in Iowa knows how big of a deal it is when the Cyclones and Hawkeyes play each other.
I still remember showing up to elementary and middle school the Friday before Iowa and ISU would face off and everyone would be wearing their favorite Cyclone or Hawkeye shirt or jersey. One kid brought a full-on flag and flew it out the window of the bus on the way to school.
Yeah. It's a huge thing -- even in tiny towns across the state.
And the players who will take to the field know it, especially if they're from one of those tiny Iowa towns. Here's a list of each player on the Cyclones' and Hawkeyes' rosters that will represent their hometown and their school district when they play in the Cy-Hawk Game this weekend:
Iowa Hawkeyes:
Cooper Dejean - OA-BCIG
Aaron Blom - Oskaloosa
Xavier Nwankpa - Southeast Polk
Jaxon Rexroth - Cedar Rapids Xavier
Quinn Schulte - Cedar Rapids Xavier
Ethan Hurkett - Cedar Rapids Xavier
Joe Evans - Ames
Brody Brecht - Ankeny
Jordan Krumm - Ankeny
Riley Moss - Ankeny Centennial
Jamison Heinz - Humboldt
Max White - Cedar Rapids Kennedy
Connor Colby - Cedar Rapids Kennedy
Alec Wick - Iowa City Regina
Kelby Telander - Iowa City Liberty
Anu Kokun - Iowa City West
Graham Friedrichsen - Urbanale
Max LLewellyn - Urbandale
Jaden Harrell - Urbandale
Deavin Hilson - Des Moines North
Kael Kolarik - Indianola
Carter Erickson - Indianola
Kaden Wetjen - Williamsburg
Landyn Van Kekerix - Boyden Hull / Rock Valley
Gavin Williams - Dowling Catholic
Andrew Lentsch - Dowling Catholic
John Waggoner - Dowling Catholic
Jack Johnson - Des Moines Valley
Jack Campbell - Cedar Falls
Jackson Frericks - Cedar Falls
Zach Brand - Dallas Center-Grimes
Kyler Fisher - Southeast Valley
Aaron Graves - Southeast Valley
Greg Fagan - St. Albert
Matt Fagan - St. Albert
Josef Smith - West Hancock
Zach Twedt - Roland Story
Karson Sharar - Iowa Falls Alden
Nick Phelps - Woodbury Central
Logan Kemp - South Hamilton
Luke Gaffney - Linn-Mar
Asher Fahey - Waukon
Dominic Wiseman - Davenport North
Monte Pottebaum - West Lyon
Nick Dejong - Pella
Taylor Fox - East Buchanan
Griffin Liddle - Bettendorf
Logan Jones - Lewis Central
Jeremy Chaplin - Waverly Shell Rock
Tyler Endres - Norwalk
Kale Krogh - Ballard
Kyson Van Vugt - Western Christian
Jeff Bowie - West Branch
Chris Reams - Van Meter
Iowa State Cyclones:
Black Clark - Dowling Catholic
Carson Brown - Dowling Catholic
Levi Hummel - Dowling Catholic
Zach Ross - Dowling Catholic
Kendall Jackson - Des Moines Roosevelt
Mason Doubrava - Des Moines Valley
Jake Remsburg - Des Moines Valley
Darien Porter - Bettendorf
Jack Hester - Bettendorf
Hunter Dekkers - West Sioux
Jacob Imming - Sergeant Bluff Luton
Ashton Cook - Iowa City Regina
John Klosterman - Iowa City High
Beau Coberely - West Marshall
Cole Pederson - Central Decatur
Will McLaughlin - Harlan
Quincey Wiseman - Davenport North
Caden Cock - Carroll
Zach Anderson - Estherville Lincoln Central
Asle Thorson - Fort Dodge
Nick Lawler - Fort Dodge St. Edmond
Trey Mathis - Webster City
Caden Matson - Humboldt
Caleb Bacon - Lake Mills
Tyler Maro - Davenport Assumption
Drake Knobloch - Winterset
Trevor Downing - Creston
Joey Petersen - North Scott
Jared Run - North Scott
Connor Guess - Van Meter
Dodge Sauser - Grinnell
Jim Bonifas - Dubuque Senior
Tyler Miller - Greene County
Hunter Deyo - Lewis Central
Drake Nettles - Lewis Central
Gabe Greenlee - Ames
Jacob Hillman - Gilbert
Gabe Burkle - Cedar Rapids Prairie
Kyle Krezek - Cedar Rapids Xavier
O'Rien Vance - Cedar Rapids Washington
Brady Petersen - Ankeny Centennial
Braden Simonsen - Ankeny
Easton Eledge - Underwood
Tyler Moore - Johnston
Kaden Sutton - ADM
Seth Greiner - Prairie City - Monroe
Trent McCann - Centerville
If you'd like a preview of this weekend's game, you can tune into Cornstalks and Sports Talk on Saturday at 9 on AM950 or KOEL.com to listen to the show live, you can listen to the podcast when it comes out, or you can watch our conversation with David Eickholt and Nick Osen of 247Sports below!
18 Players from Iowa, ISU, and UNI Considered Among Best in CFB
The East-West Shrine Bowl just released its list of 1,000 best football players from across the country that are NFL Draft and all-star game eligible. Here are the 18 players on the list from Iowa's three state schools.
Iowa, Iowa State, and UNI Football Players Headed to the NFL
Young men from all three state schools are getting their opportunities to play at the next level, whether they were drafted or picked up as free agents. Here's where they landed!