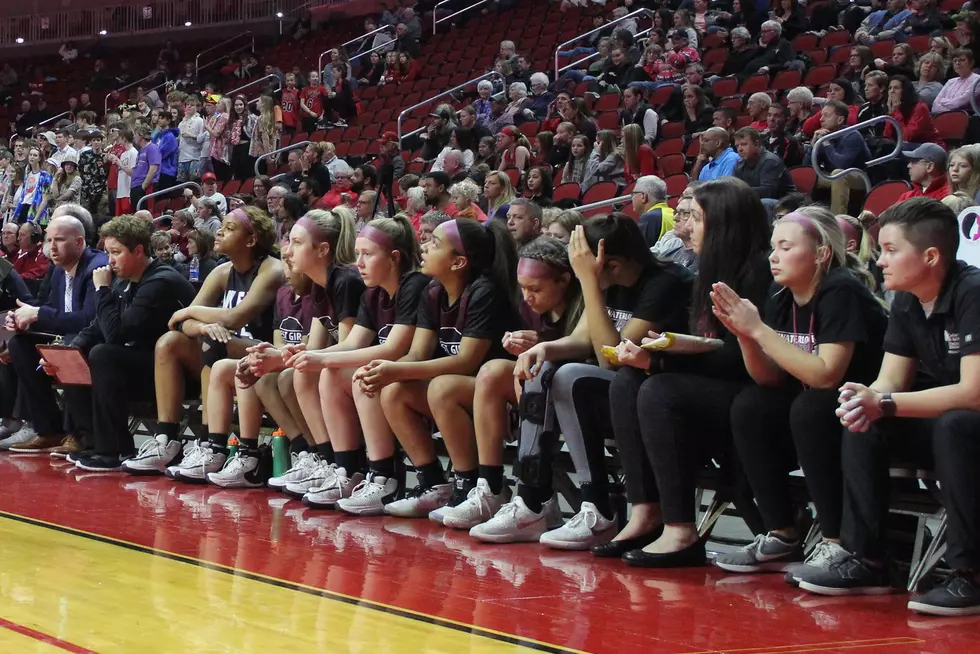 Wahawks Fall To Record-Setting Waukee In 5A Semifinals
Photo By: Elwin Huffman - Townsquare Media
They pass, they can shoot and they guard you.
The Waukee Warriors have everything it takes to play good basketball and that's why they're headed to the Class 5A championship game at the 2020 Iowa High School Girls State Basketball Tournament.
Waukee, which has no seniors, made a state tournament record 15 3-point baskets and rolled past an even younger Waterloo West team 88-65 to earn a shot at its second state title. The top-seeded Warriors will play CIML rival Johnston at 6 p.m. Friday, looking to avenge a 67-57 loss to the Dragons back on Dec. 10. It will be the sixth time in the last eight years that two Central Iowa rivals have meet for the 5A crown.
Waukee won the championship in 2015 in its only other appearance in the finals. Johnston, the No. 3 seed in this year's tournament, also has been in the championship game once previously, losing to Ankeny Centennial in 2016.
Katie Dinnebier, a junior who has committed to Drake, led Waukee with 25 points. She went 6-for-8 from 3-point range, finished 8-for-11 overall and did not commit a turnover while handing out three assists and making two steals. Lindsey Kelderman added 17 points and five 3s for the Warriors, while reserve Reagan Bartholomew contributed 15 points and four assists. Peyton Kelderman had a nice line with seven points, six rebounds and eight assists. The Warriors ended up with 19 assists on 30 baskets and finished 15-for-38 on 3-pointers. The previous tournament record was 14 by four different teams, most recently by Marion in 2018.
Waterloo West was led by its two freshman stars, Sahara Williams and Halli Poock. Williams posted a double-double with 23 points and 12 rebounds, while Poock had 13 points, four rebounds and four assists. Junior Gabby Moore scored 11 for the Wahawks and sophomore Brooklynn Smith, the daughter of IGHSAU Hall of Famer Nina Smith, scored 10 points.
West took an early 10-7 lead as Waukee missed nine of its first 11 shots. But once the Warriors got rolling, there was no stopping them. The Wahawks continued to play hard but just could not keep up. Waukee ended the first quarter with a 13-2 run to go up 20-12, led 46-28 at halftime, then knocked down six 3-pointers in the first five minutes of the second half to stretch the lead to 69-36. The lead grew to 34 before coach Chris Guess began pulling his starters.
Waukee will take a 23-2 record into Friday night's game. West finishes 20-5 and is likely to be heard from again.
Story By: Chuck Schoffner - Iowa Girls High School Athletic Union
Enter your number to get our free mobile app