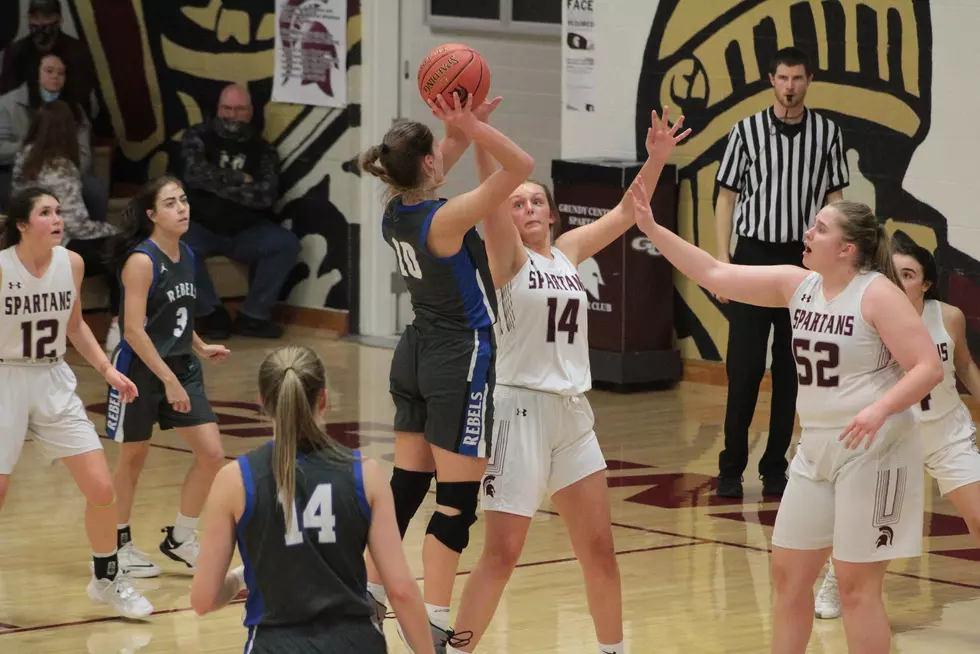 2020-21 Iowa High School Girls Basketball Rankings – Poll 10
Photo By: Elwin Huffman - Townsquare Media
This week's Iowa high school girls basketball poll features 10 teams from the Cedar Valley and Northeast Iowa.
The highest rated teams from the region are Dike-New Hartford and Waterloo West, which continue to be ranked among the top five in their respective classes. The undefeated Wolverines (19-0) are No. 2 in Class 2A for a third-straight week, while the Wahawks (16-1) kept their No. 3 ranking in Class 5A.
Cedar Falls (14-3), ranked eighth in the 5A survey last week, moved up one spot to No. 7 after three-straight wins.
Four North Iowa Cedar League teams are listed in the latest poll -- all of them in Class 2A. Ranked behind Dike-New Hartford are Grundy Center (15-3) at No. 8, Denver (15-4) at No. 9 and Sumner-Fredericksburg at No. 13.
Other teams ranked from the area are Center Point-Urbana (No. 10 in Class 3A), Vinton-Shellsburg (No. 13 in Class 3A) and Waukon (No. 14 in Class 3A).
The new survey was released by the Iowa Girls High School Athletic Union (IGHSAU) Thursday afternoon. The poll features the final rankings of the 2020-21 season for Class 1A, 2A and 3A teams across the state. Final rankings the state's largest two classes are scheduled to be released Wednesday.
---
| | | | |
| --- | --- | --- | --- |
| | School | Record | LW |
| 1 | Algona Bishop Garrigan | 20-0 | 1 |
| 2 | Newell-Fonda | 19-1 | 2 |
| 3 | Saint Ansgar | 19-1 | 4 |
| 4 | Exira/Elk Horn-Kimballton | 20-0 | 5 |
| 5 | MMCRU | 17-2 | 6 |
| 6 | Montezuma | 19-1 | 7 |
| 7 | Kingsley-Pierson | 20-1 | 3 |
| 8 | Springville | 17-3 | 8 |
| 9 | Winfield-Mount Union | 16-0 | 9 |
| 10 | Burlington Notre Dame | 16-1 | 10 |
| 11 | Lenox | 17-3 | 11 |
| 12 | Collins-Maxwell | 19-1 | 13 |
| 13 | Storm Lake St. Mary's | 18-3 | 14 |
| 14 | Lynnville-Sully | 16-3 | NR |
| 15 | Baxter | 17-2 | 12 |
Dropped Out: Sigourney (15)
| | | | |
| --- | --- | --- | --- |
| | School | Record | LW |
| 1 | Maquoketa Valley | 19-0 | 1 |
| 2 | Dike-New Hartford | 19-0 | 2 |
| 3 | West Branch | 16-1 | 3 |
| 4 | Nodaway Valley | 20-0 | 4 |
| 5 | North Linn | 17-2 | 5 |
| 6 | Bellevue | 17-1 | 6 |
| 7 | Central Lyon | 19-2 | 8 |
| 8 | Grundy Center | 15-3 | 7 |
| 9 | Denver | 15-4 | 10 |
| 10 | Treynor | 17-4 | 9 |
| 11 | Sibley-Ocheyedan | 16-5 | 12 |
| 12 | Cascade | 15-5 | 11 |
| 13 | Sumner-Fredericksburg | 16-6 | NR |
| 14 | West Hanock | 18-5 | 14 |
| 15 | Underwood | 16-3 | 13 |
Dropped Out: Ridgeview (15)
| | | | |
| --- | --- | --- | --- |
| | School | Record | LW |
| 1 | Cherokee | 15-0 | 1 |
| 2 | Clear Lake | 13-2 | 2 |
| 3 | Unity Christian | 13-1 | 3 |
| 4 | West Lyon | 13-2 | 5 |
| 5 | West Burlington | 15-1 | 6 |
| 6 | Osage | 14-1 | 4 |
| 7 | Des Moines Christian | 8-3 | 7 |
| 8 | Roland-Story | 14-1 | 9 |
| 9 | West Liberty | 9-3 | 11 |
| 10 | Center Point-Urbana | 14-3 | 8 |
| 11 | Estherville-Lincoln Central | 12-4 | 10 |
| 12 | Solon | 13-2 | 12 |
| 13 | Vinton-Shellsburg | 11-4 | 13 |
| 14 | Waukon | 11-3 | 14 |
| 15 | Monticello | 12-3 | NR |
Dropped Out: Bishop Heelan (15)
| | | | |
| --- | --- | --- | --- |
| | | | |
| | Glenwood | 15-3 | 1 |
| | Ballard | 18-1 | 2 |
| | Dallas Center-Grimes | 16-2 | 3 |
| | North Scott | 13-1 | 5 |
| | Central DeWitt | 13-2 | 4 |
| | Waverly-Shell Rock | 19-2 | 6 |
| | Bondurant-Farrar | 12-5 | 7 |
| | Denison-Schleswig | 17-3 | 8 |
| | Harlan | 15-5 | 10 |
| | Gilbert | 13-5 | 9 |
| | North Polk | 12-7 | 13 |
| | Cedar Rapids Xavier | 9-6 | 11 |
| | Creston | 13-5 | 14 |
| | Sergeant Bluff-Luton | 12-6 | NR |
| | Clear Creek-Amana | 15-4 | 15 |
Dropped Out: Winterset (12)
| | | | |
| --- | --- | --- | --- |
| | | | |
| | Waukee | 7-1 | 2 |
| | Johnston | 12-1 | 1 |
| | Waterloo West | 16-1 | 3 |
| | Southeast Polk | 13-2 | 4 |
| | Ankeny Centennial | 12-2 | 5 |
| | Iowa City West | 9-3 | 6 |
| | Cedar Falls | 14-3 | 8 |
| | Cedar Rapids Washington | 12-2 | 7 |
| | Dowling Catholic | 9-5 | 9 |
| | West Des Moines Valley | 7-6 | 10 |
| | Des Moines Roosevelt | 8-1 | 11 |
| | Iowa City High | 7-4 | 12 |
| | Davenport North | 8-1 | 14 |
| | Indianola | 16-4 | 15 |
| | Sioux City East | 16-2 | NR |
Dropped Out: Ankeny (13)
LOOK: Here are 25 ways you could start saving money today
These money-saving tips—from finding discounts to simple changes to your daily habits—can come in handy whether you have a specific savings goal, want to stash away cash for retirement, or just want to pinch pennies. It's never too late to be more financially savvy. Read on to learn more about how you can start saving now. [
From:
25 ways you could be saving money today
]