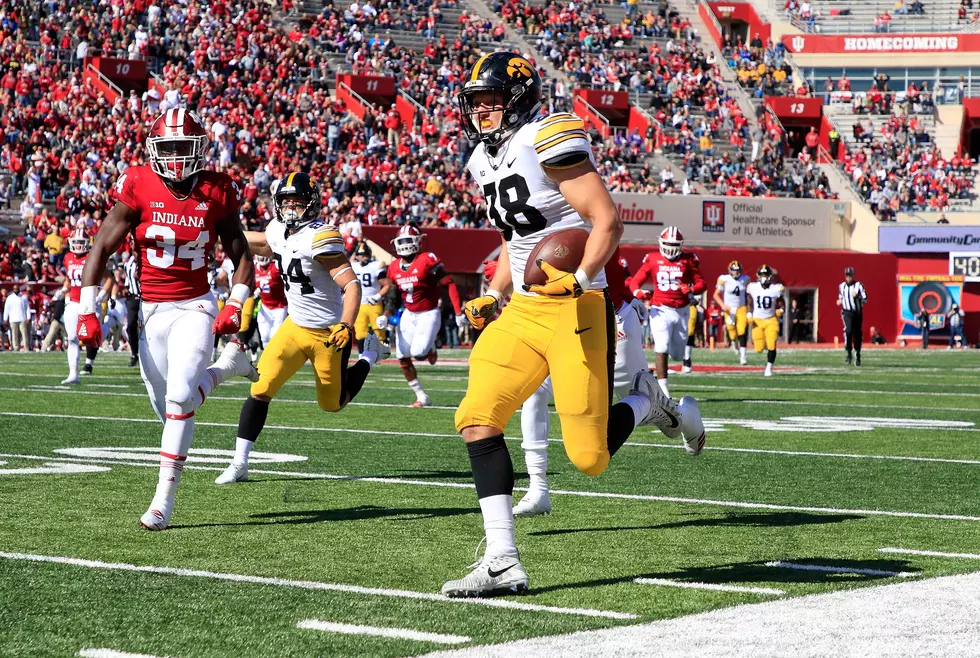 [BREAKING] Former Iowa Great Traded by NFL Team that Drafted Him
Getty Images
As shared by NFL reporter for ESPN Adam Schefter this morning, former Iowa Hawkeye tight end and Detroit Lions' 2019 first-round pick TJ Hockenson is being traded to the Minnesota Vikings.
Though nothing solid was shared until today, rumors of him being shipped out of Detroit have been circulating around the NFL over the last few weeks. Just a few days ago, the Chariton, Iowa native shared with Detroit Free Press that he was aware of the rumblings:
Listen, I'm not stupid. I know what I can bring to another team and I know here that they could, if they want something, if they want to do things for the future then I'm not stupid in that sense. It is a business and whatever they have to do upstairs they're going to do. And that doesn't -- there's no hard feelings about it. There's no, 'Hey, I don't like him personally' or anything about that. That's just how it is. So I'm not dumb or naive in that fact
Per NFL.com, the Lions will receive "a 2023 second-round pick and 2024 third-round pick to Detroit for Hockenson, a 2023 fourth-round pick, and a 2024 conditional fourth-round pick."
So far this season, the former Hawk has started and played in all seven of the Lions' games, having recorded 26 catches for 395 yards and three touchdowns. Hockenson's best season so far in the league came in his second year, 2020, when he recorded 67 grabs for 723 yards and six touchdowns.
He added this of his time in the Motor City and his football career going forward:
I love everybody in this locker room. I love being here in Detroit I mean, but more importantly and most importantly I love playing football and so I'm going to have the opportunity to do that and that's really what my whole role in this entire league is to do is to play football. So as long as I have that opportunity I'm good
In two years at Iowa, Hockenson caught 73 passes for 1080 yards and nine touchdowns.
Iowa, Iowa State, and UNI Football Players Headed to the NFL
Young men from all three state schools are getting their opportunities to play at the next level, whether they were drafted or picked up as free agents. Here's where they landed!
Stunning 19th Century Iowa Home Has Gorgeous View
It was built in 1885 and has been beautifully restored. Located at 1155 Grove Terrace in Dubuque, it's priced at $950,000. The listing agent is
General Bob Realty
.