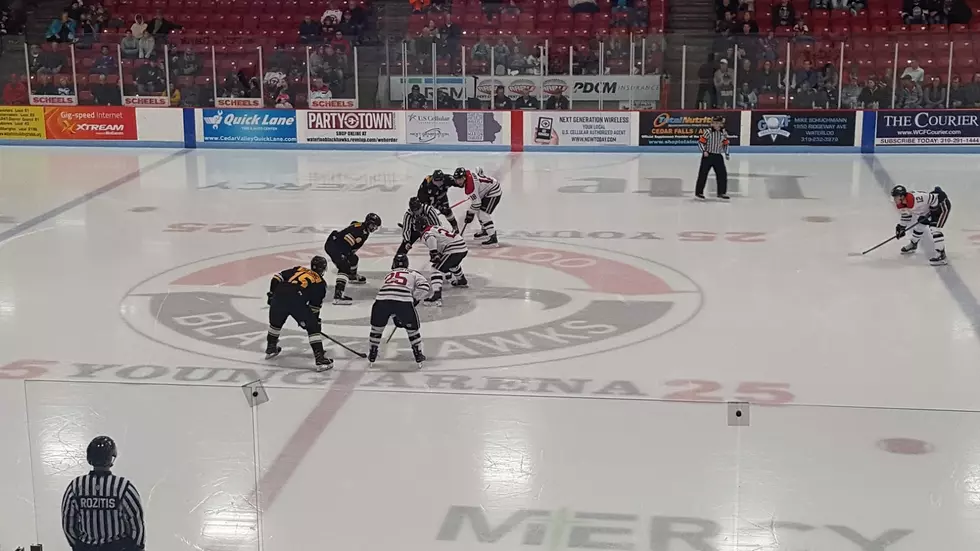 Black Hawks Hockey Games This Weekend – POSTPONED
Townsquare Media - Shawn McKenna
Just when the USHL and Waterloo Black Hawks hockey season was about to get underway, COVID-19 is "rearing its ugly head", and brings a postponement to this weekend's hockey games.
According to press release: the two games between the Black Hawks and Omaha Lancers scheduled for Friday, November 6th and Saturday November 7th have been declared a "No Contest".
Per the United States Hockey League's safety protocols, minimum standards were not met to play these games as originally scheduled.
In a statement from Waterloo Mayor Quentin Hart, regarding rising numbers of local COVID-19 hospitalizations, Black Hawk County's high positivity rate, and the overall increase in cases:
"This is an extremely risky time. We need to err on the side of safety for all. We believe bringing more than 1500 people to this community, while it may be legal by the Governor's standards, is problematic to our local community. We love our hockey fans and are putting their health first."
The USHL will work with Waterloo and Omaha to reschedule the games, with an announcement of details about when the games will be played expected at a later date.
Single game ticket sales for this weekend's games had begun on Wednesday afternoon. The Black Hawks will automatically refund all individual game purchases which were made in that time. Fans with season ticket packages will be admitted to the rescheduled games as part of their plans
In related news: According to a press release, the Des Moines Buccaneers announced today that the games scheduled for Thursday, November 5, 2020 vs Sioux Falls at 6:30 pm and Friday, November 6, 2020 vs Tri-City at 7:00 pm at Wells Fargo Arena have been declared no-contest and postponed due to multiple COVID-19 exposures.
Enter your number to get our free mobile app
KEEP READING: Can You Guess These C.V. Locations From An Aerial View?