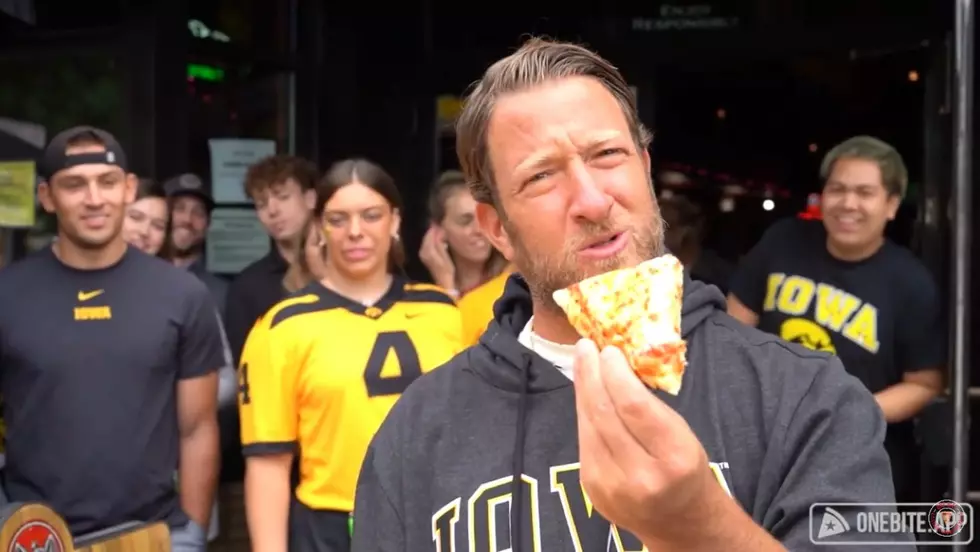 Barstool's Dave Portnoy Reviews an Eastern Iowa Pizza Joint
One Bite Pizza Reviews YouTube Channel
If you've heard anything about the Casey's Pizza and Dave Portnoy debacle of 2017, you may cringe learning that he's tried another Iowa-based pizza joint -- let alone one in eastern Iowa.
For those unaware, this is what 'Stool Presidente' said when he stepped outside his cheese pizza box and tried a breakfast slice at a Casey's in Coralville just a few years ago:
Too bacony. ... We are at a gas station...I am eating gas station pizza. Which I guess is the creme de la creme of Iowa cuisine.
He gave the pizza a 5.2 rating on his scale of 1-10.
Here's the original video:
This time around, Portnoy stopped by Iowa City for the CyHawk game when Iowa State took down Iowa for the first time in six years, defeating the Hawkeyes 10-7 in Kinnick Stadium.
The internet celebrity stopped by The Airliner at 22 S Clinton St. to try a slice of their cheese pizza. After meeting the owner and making his way around the bar that claims its pizza has kept them "an Iowa City hotspot for over seven decades," Portnoy stepped outside and detailed his experience around the bar to a cameraman.
He then gave a quick assessment before taking his first bite:
Right now, I can tell this pizza weighs 7,000 pounds. Which, if you watch my pizza review, I can tell by the weight that it's not always the best sign for what I like. ... I've got to be honest, when you're on college campuses, it's a different type of pizza. You're not necessarily getting into the 7s or 8s, you're happy getting a 6.
Then, he had this to say upon further inspection:
It kind of reminds me of a Domino's looking thing a little bit.
Take that however you want to.
Then, for the moment of truth.
It's actually better than I thought it was going to be going down.
The surrounding crowd offered an uproar of delight in response to the review.
He continued:
Truth be told, my expectations couldn't have been lower. It's better than Casey's. You wake up and get out of bed and you're better than Casey's. This is way better than Casey's. ... This ain't bad! I'm going to go with a 6.4 on this.
Before leaving, the University of Michigan graduate shared with the crowd that Iowa was in his top four Big Ten campuses:
Michigan, Wisconsin, Iowa, and Indiana. That's my top four.
Iowa, Iowa State, and UNI Football Players Headed to the NFL
Young men from all three state schools are getting their opportunities to play at the next level, whether they were drafted or picked up as free agents. Here's where they landed!
University of Iowa ANF Wall of Honor Members
The University of Iowa's has now announced 10 members of the America Needs Farmers Wall of Honor at Kinnick Stadium.