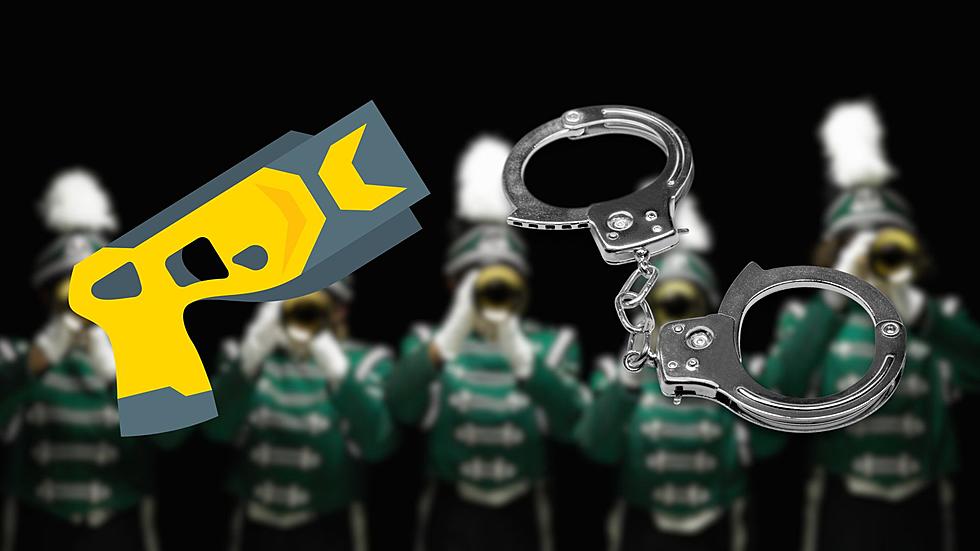 Alabama High School Band Director Tased By Cops For Not Stopping The Music
Canva
🎵You can't stop the beat! 🎵
But a cop with a Taser sure can.
A band director in Alabama was first tased, then arrested in front of his students after authorities said he wouldn't order his band to stop playing.
The incident happened Thursday night after the Jackson-Olin High School vs. Minor High School football game, which was played at Jackson-Olin in Birmingham.
The Birmingham Police Department's spokesperson, Officer Truman Fitzgerald, released this report of what happened after the game that led to an officer deploying a taser on the band director.
After the football game ended, Birmingham officers were working to clear out the stadium and observed both of the school's marching bands still playing in the stands.
Officers spoke with both schools' band directors to end the performance so that students and attendees would leave the stadium and stadium staff could lock up and leave for the night. Officers were able to get Jackson-Olin's band to stop playing. Minor High's band was a different story.
When officers approached the school's band director, Johnny Mims, and asked him to get his band to stop performing, Mims didn't comply with the request, but in fact told his students to keep playing.
A Birmingham Police officer was with a group of officers who continued to attempt to stop the band, but the director refused.
At some point during the interaction, officers decided to take Mims into custody, which was when things took a serious turn.
Officers attempted to place Mims' arms behind his back to arrest him for disorderly conduct, but he refused.
The arresting officer said that Mims then pushed him during the arrest attempt, which led to that officer subduing the band director with a Taser, ending any physical confrontation.
Birmingham Fire and Rescue treated Mims at the stadium, and then he was taken to UAB Hospital - standard protocol after a Taser is deployed.
After he was discharged from the hospital, officers transported Mims to the Birmingham City Jail, where he was booked and immediately bonded out.
Officers presented the case to the City of Birmingham Magistrate's Office; and obtained warrants for disorderly conduct, harassment and resisting arrest.
The Birmingham Police Department's Internal Affairs Division investigates all uses of force during an arrest, so they're investigating this one as well.
The district's Superintendent made a statement on the incident.
"We are aware of the incident that occurred after the Minor and Jackson-Olin football game,'' Superintendent Walter Gonsoulin said in a prepared statement. "I am in the process of gathering all the facts, and feel it would be inappropriate to comment further until that process is complete. I urge everyone not to jump to conclusions."
Read more at AL.com
WOOF: These are the most popular dog breeds in America