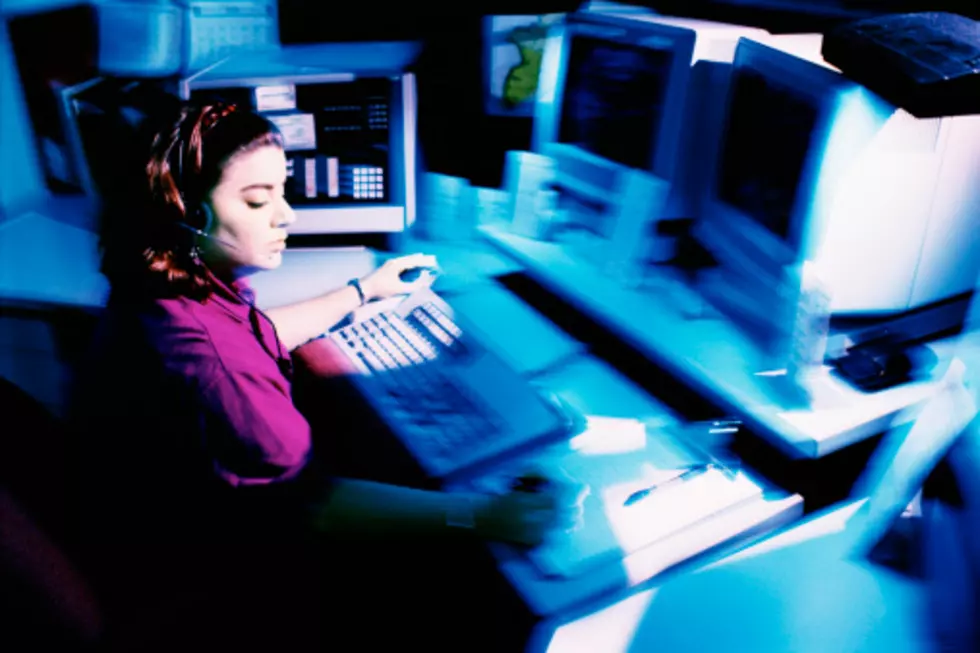 911 Dispatcher Gives Terrible Advice To Woman In Danger
Getty Images
A woman in Winnipeg Canada is unhappy with the advice that a 911 dispatcher gave her when she was in a dangerous situation.
Terrified, Angela Chalmers barricaded herself in her room and waited 20 minutes for the police to arrive. When she told the dispatcher there was an intruder in her home the advice she received back was to confront the strange man herself.
At 6 in the morning on June 18th, Angela Chalmers woke up to the sound of her dog, Loki, growling at the top of the stairs. She got up and walked downstairs to see what the dog was growling at. She was terrified at the sight of a strange man sleeping on her couch.
"I came down to see what it was that he was barking at, and I walked halfway down the stairs and there was a strange man lying right here on my couch," said Chalmers. "It was terrifying."
She immediately went back upstairs and woke up her roommate, quietly sharing the news. Together they barricaded themselves in a closet and called 911.
Chalmers is now questioning the training that this certain dispatcher had because she was shocked by the advice she was given.
"They said that the police were really busy and would we mind going downstairs and waking him up ourselves?" she said.
She did mind. This was a strange intruder in her home, she was not going to approach this potentially dangerous man.
Chalmers and her roommate stayed upstairs until police arrived 20 minutes later, which she thought was a ridiculous amount of time to wait for help in a situation like this.
It took four officers to get the man out of her home after the man woke up because he became aggressive.
What Police Say
In an emailed statement, Kelly Dehn, director of public affairs for the Winnipeg Police Service said, "the incident is being reviewed and the 911 dispatcher who spoke to Chalmers has been provided feedback on the handling of the call, some of which deviated from standard practice... Response times can vary for any call depending on the time of day and resources available, as well as the urgency of the event, but the call was appropriately dispatched in a timely manner."
Another police spokesperson said that dispatchers would typically advise callers to exit the building and not to approach a person that could put their safety in jeopardy.
The officers were apologetic toward Chalmers, but she was worried about what would have happened if she listened to the dispatcher's poor advice.
"I wasn't harmed, nothing was taken, it worked out okay this time, but had I been someone else … and took that 911 operator's horrible recommendation, that could have ended completely differently," she said.
Chalmers Past Home Invasion
Chalmers's first instinct was to hide and protect herself and her roommate, as she has lived through a similar but worse incident.
The 44-year-old was the victim of a violent home invasion in Vancouver 12 years ago. Two men entered her apartment, beat her, and left her for dead.
"They thought that they were robbing the people who lived there beforehand. When they realized that I wasn't the person that they wanted to rob, I sat there and listened to them have a conversation about what to do with me and they decided they would kill me because I'd seen their faces," she said.
Her neighbor had heard the noise and called the police. Chalmers now lives with constant pain, difficulty with fine motor skills, and post-traumatic stress disorder.
The fear of Chalmers's last encounter has her feeling strong about this new situation, that no one should have to wait 20 minutes for police to arrive, or be told to confront an intruder.
"If we're going to depend on the police, I'd like to know that they're going to show up when I need them."
Chalmers said she had no idea who the man was or why he would have come into her home. She said that nothing was stolen but the door was accidentally left unlocked.
Police determined there was no criminal intent in the incident and the intoxicated man was not charged at the homeowner's request.
The incident has left Chalmers rattled. She said, "I'm checking the locks 12 times through the entire day, never mind at night."
She is hoping that her story will be able to show training 911 dispatchers how to handle these types of calls.
Read More Here: CBC News
Best Quad Cities Area Dive Bars
Here are some of the best 'Hole in the Wall" taverns in the Quad Cities