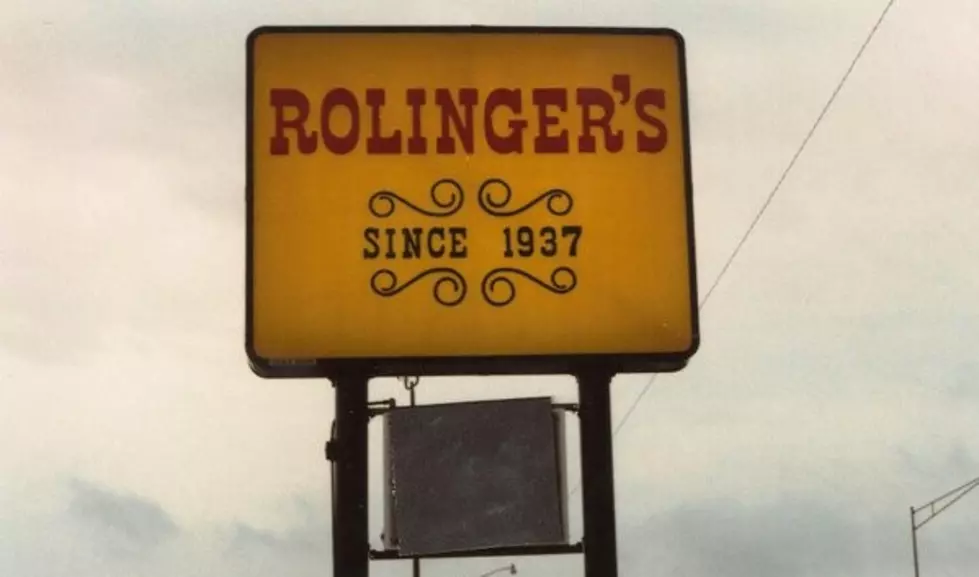 10 Restaurants You May Have Forgotten Were In The Cedar Valley
Courtesy - Pat Schultz (I Grew Up In Cedar Falls)
There's one thing for sure, people like to "go out to eat"...I mean..we reallly like it. In fact, people in Iowa spend $2,117 per year, on average, on dining out. That being said, we also love nostalgia..getting sentimental about things in our past. If you combine the two, our love for dining out and our affection for things in the past, the great memories start flowing in!
So, let's take a look back at some former area restaurants that were popular in the Waterloo/Cedar Falls area. I summoned the help of my friends in the Facebook group, "You Might Be From Waterloo Cedar Falls If You Remember" and they were able to come up with nearly 100 former restaurants! Some dating back all the way to the 1930's and 1940's! To compose this "top 10" list, I included restaurants that were mentioned the most by people in the Facebook group (sort of an informal survey) and my own personal memories.  Keep in mind, *your* top 10 might be different, and that's fine, there's no wrong answers. So, here we go - (listed in no particular order)...
1. ROLINGER'S - My wife shared memories of her parent's taking her and her brother there, for the best "steakburger" in town. They were also known for their delicious tenderloins and onion rings. Fun tid-bit...Russ Rolinger's father, Lou, was a light-weight boxing champion. Then Lou opened the first Rolinger's in downtown Waterloo in 1937. There were several locations around town, including one on Airline Highway...(current Z's Restaurant & Lounge) and on University Avenue. Sadly, (the very popular) Russ died in 2013 at the age of 77. The last restaurant closed in 1988.
2. SHAKEY'S PIZZA PARLOR - In the early 80's, after the high school football or basketball game, and when you got tired of riding in the car "cruisin' uni", the popular meeting place was Shakey's! It was located where the Sylvan Learning Center building is on University Avenue. There was also a location on Kimball Avenue in Waterloo. Everyone loved their "Mojo" potatoes and they had good pizza too. It was just a fun place to "hang out" with your friends.
3. HUCKLEBERRY'S - Billed as "Iowa's Most Unique Restaurant", that was inside, one of the area's most unique buildings, they called it "Brinkley's Landing" back in the day. Most recently, it was the home of the College of Hair Design. Now, it sits vacant. Everyone loved their buffet, the river view setting and you could even dine on the bus! Local photographer David Marvitz recently found the old double-decker Huckleberry's bus, languishing in a junkyard.
4. BISHOP'S BUFFET - When I was a kid, I remember many trips to Crossroads Mall, grabbing a tray and going through the buffet line. Bishop's was in downtown Waterloo for many years, before moving to Crossroads. They also had a location in College Square Mall. This was a popular "Sunday after church" destination for many families, and the kids could get a balloon attached to the little "clown feet" and they served a variety of over-the-top delicious pies.
5. THE OLDE BROOM FACTORY Constructed in 1862, this building had many uses before it was turned into a restaurant in the mid/late 1970's and served the Cedar Valley for 3 decades! This popular restaurant was a favorite place to go for a romantic night. Whether it was a marriage proposal, a rehearsal dinner or prom night. It was opened by Clyde & Dorothy Stitt in 1976 and closed in 2007.
6. HENRY'S HAMBURGERS - In the 1950s, a fast-food chain you may have heard of came along...McDonalds! The restaurant industry went crazy trying to attempt to mimic the success of McDonald's. Henry's was a major player in the 50s, 60s, and 70s: By the early 60s there were over 200 of them...more than McDonald's had at the time. Locally, you could find a Henry's on Broadway Ave., La Porte Road in Waterloo, and on University Avenue, behind Peet Junior high. Known for super cheap hamburgers and you could get fries by the pound! If you're hungry for Henry's, there's only one left open, in Benton Harbor, Michigan.
7. KINGS FOOD HOST - They were way ahead of their time...you could place your order on a phone in the booth! Plus, they also had mini jukeboxes at the tables you could put a coin in and play a song. Known for their "cheese frenchies" and "tuna frenchies". King's has locations on the corner of Main St. and Seerley in Cedar Falls, Ridgeway Ave., University Ave. and on E. 4th St., in downtown Waterloo. If you were a good boy or girl, you received one of these buttons!
8. SAMBOS RESTAURANT Corporate level decisions, along with a politically-incorrect (even for back then) led to the franchises demise. Sambo's name originally came from portions of the names of the two founders (Sam Battistone and Newell Bohnett) when they started in 1957. Through fate or just back luck, their restaurant name was tied the 1899 children's book called "The Story of Little Black Sambo". By the late 1970's, the term Sambo was viewed as disparaging towards African-Americans, which led to protests and lawsuits. Unfortunately, they seemed to be remembered more for their ill-fated choice for a name, rather than their food.
9. FREEMAN'S - On Falls Avenue in Waterloo, "Where Hungry People Gather". Or gathered, back in the day to enjoy the delicious hot beef sandwiches and homemade chocolate pudding for dessert. It was operated by Freeman Moser Jr. and was a very popular family restaurant. It changed hands, and was also home to Garfield's Cafe, Gary's Restaurant, and currently home to Three Amigos Restaurant in that location. The "Gary" of Gary's Restaurant is Gary Shoemaker, the current owner of "Lincoln Perk" in downtown Waterloo.
10. PURPLE PARROT - Whether you were getting off work from Allen Hospital or just joining family and friends, this was a popular place dating back to 1938. It was located on Logan Avenue in Waterloo. They were known for their excellent steaks and their eclectic menu that featured stuff like turtle soup and frog legs. They also appeared to like to have some fun "offering favors for the ladies", ha ha! (see photo)
I could list dozen and dozens more, but I'll end our trip down memory lane with my top 10 "Honorable Mentions":
The Colony Club, C & H Cafe, Mandarin Inn, Hong Kong (downtown Waterloo), Carpenter's Restaurant, The Sweden House, Pink Elephant, Friendly Friars, Friedl's and Dog N Suds.
Enter your number to get our free mobile app