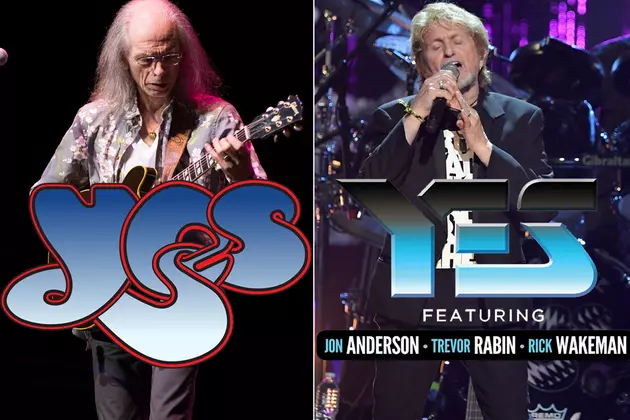 Yes vs. Yes: Who Actually Owns the Band's Name?
Dave Kotinsky / Mike Coppola, Getty Images
Yes split into two bands just 72 hours after being inducted into the Rock and Roll Hall of Fame, seemingly out of the blue. But the seeds of this break date back to 2015, when what appeared to be a gentleman's agreement between singer Jon Anderson and Chris Squire ended with the bassist's 2015 death from cancer.
Squire was the only constant in ever-evolving Yes lineups dating back to 1968. This led many to assume that ownership of the Yes brand had fallen solely to him. Not so, Yes management now confirms. At the time of his death, it was actually jointly held by Anderson, Squire and early '70s additions Steve Howe and Alan White, they say.
Independently untangling ownership for the band is complicated not just by varying lineups, but also by multiple corporations set up by members over the years.
The still-active Yes '97 LLC is apparently owned by Howe, Squire's estate and White. Yes Touring LLC, now inactive, was set up in 2014 by Howe, Squire and White. Anderson, Squire and White earlier created Yes 2002 LLC. A trademark on the Yes logo was also registered to Anderson, Squire and White back in 1980.
Still, as we saw when Anderson co-founded the late-'80s offshoot band Anderson Bruford Wakeman Howe, the singer had always been hesitant to assert his ownership rights – as long as Squire was leading the band. When Squire died, everything changed.
Yes continued under the leadership of Howe and White, with a lineup rounded out by Geoff Downes (a Drama-era member in his second stint with the band) and Billy Sherwood, a '90s-era contributor who'd been personally selected by Squire to take over. Anderson, meanwhile, started working with former Yes members Trevor Rabin and Rick Wakeman.
At first, they toured as Anderson Rabin Wakeman, a name that recalled the live-and-let-live days of Anderson Bruford Wakeman Howe. All three were inducted into the Hall of Fame on April 7 -- appearing alongside Howe and White from Yes – as well as original drummer Bill Bruford. (Original keyboardist Tony Kaye and the late Squire were absent.)
Looking back now, it was probably clear something was amiss: Anderson, Rabin and Wakeman arrived separately from the others – a sign of things to come. Within days, they officially changed their name, leaving fans to delineate between a band called Yes and another called Yes Featuring Jon Anderson, Trevor Rabin and Rick Wakeman.
The gentleman's agreement was no more. "Yes Featuring Jon Anderson, Trevor Rabin, Rick Wakeman have as much right – if not more so – to call themselves Yes, since Jon Anderson, the co-founder of the group, has always had the rights to use the name and the trademark," Anderson's management said in an exclusive statement to Ultimate Classic Rock.
The trio has, in fact, been hinting at this move for months. "It's certainly the finest lineup performing Yes music that I've ever been a part of," Wakeman said back in September. "Steve Howe has been playing, in essence, with a tribute band," Rabin told the (Beaver, Penn.) Times last October. Anderson was even more succinct, in a January talk with Artist Direct: "ARW equals Yes, or Yes is ARW."
By April, just before the three were about to be honored by the Rock and Roll Hall of Fame at the Barclays Center in Brooklyn, Anderson told Yahoo that "We think we're Yes, anyway. ... It's mind-boggling in a way to think I started the band, and there's no reason why I shouldn't be able to utilize the name, because it's part of my life."
Anderson won't be able to resurrect every element of the old band. Yes management confirms that the Howe-led version of Yes have been granted exclusive use of the familiar Roger Dean logos. Also, they note that while Anderson "has a co-ownership right to use the name," he also "presumably" has "a duty to ensure that the use does not cause unnecessary confusion for fans." Yes management did not clarify what, if any, role Squire's widow now plays in the partnership, following Squire's death – though a press agent did say "the continuing band has lineage back to 1968."
The question remains whether Howe and White will follow in the footsteps of Squire when it comes litigating the band name. In 1989, Squire took Anderson Bruford Wakeman Howe to court because he thought their advertising material caused "confusion in the minds of the public over which group is the real Yes." Ironically, Rabin was a member of the official band back then – while Howe and Wakeman were partners in the upstart ABWH. Now, Howe is part of the established lineup, and Wakeman has joined Rabin in a newly formed group.
Ultimately, Yes merged with Anderson Bruford Wakeman Howe, releasing Union and then gathering for a group-uniting tour. That sort of scenario seems unlikely today, based on comments from Yes Featuring Jon Anderson, Trevor Rabin, Rick Wakeman.
Asked about Yes in March, Wakeman said, "They're nothing to do with us. We have no interest in what they do – and they probably got no interest in what we do. We just play Yes music as we want to play it."
Yes Lineup Changes: A Complete Guide