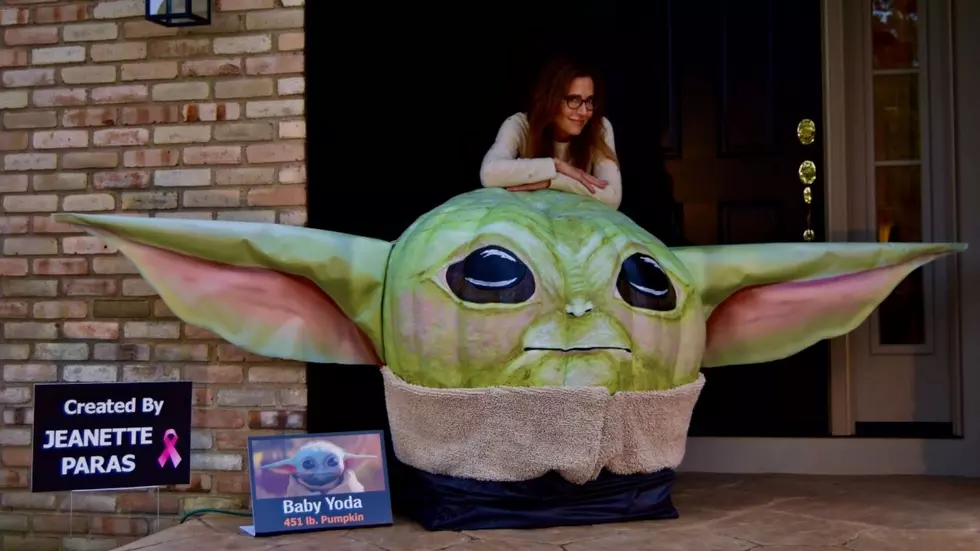 Woman Creates Giant Baby Yoda Out Of 451-Pound Pumpkin
Paras Pumpkins
It's pumpkin decorating season, and there's not many people better at it than Ohio's Jeanette Paras, a professional pumpkin artist.
This year, she's gone with the ever-popular "Star Wars" theme. The pumpkin she used is nearly 40 inches in diameter, and weighs 451 pounds, and is decorated to look like "The Child" from "The Mandalorian."
Paras calls it the "Baby Yodakin." The pumpkin has two 39 inch ears attached to it, bringing the total size to about 10 feet wide. "I want people to look at Baby YodaKin, smile, appreciate his cuteness and enjoy a moment away from everything going on in the world today," Paras said in a statement. "We've been cooped up for months, watching bad news every day it seems. I considered 'pumpkinizing' the coronavirus, the presidential candidates, Ruth Bader Ginsburg, Dr. Fauci and others. To me, Baby Yodakin represents the mental health break we need."
The pumpkin's debut comes a few days before Halloween, as well as the Mandalorian Season 2 premiere on October 30th.
Also, check out Michael's pumpkin, which he carved to look like the 2112 album cover.
Enter your number to get our free mobile app
10 Things Fall Activities You Can Still Do In a Pandemic