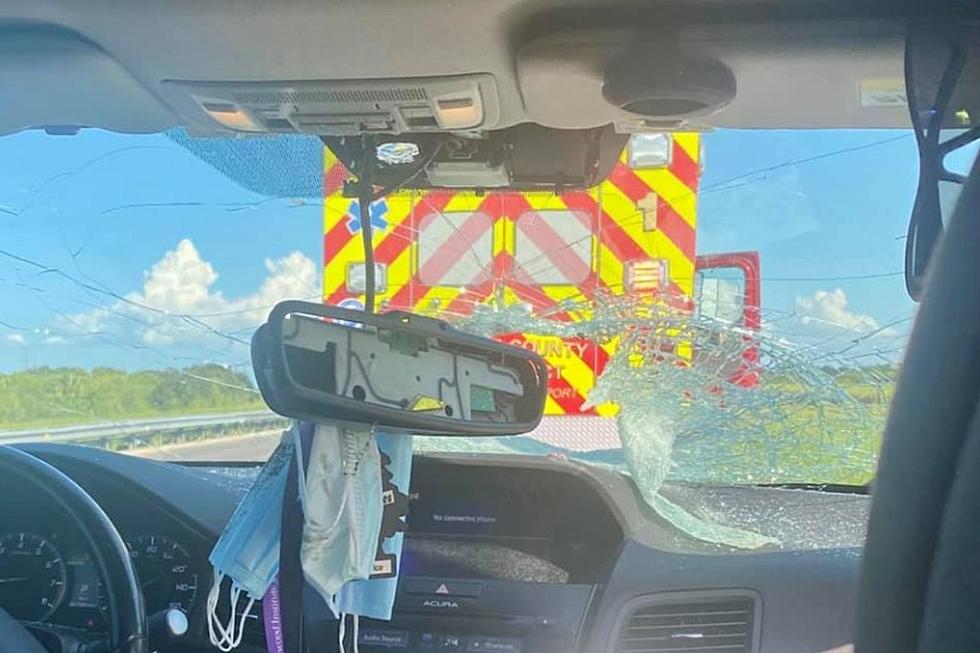 Turtle Crashes Through Windshield in Florida…Again
St. Lucie County Fire District via Facebook
An airborne turtle crashed through the windshield of a car last week on a Florida highway, safely landing in the backseat.
A semi-truck driving ahead of the car apparently hit the edge of the turtle's shell, sending it soaring through the air, crashing through the middle of the car's windshield.
The turtle landed, amazingly unharmed, in the backseat. The turtle was later released safely and the driver was not injured.
The St. Lucie County Fire District posted on their Facebook Page:
Shortly after 5pm a call came in for a single vehicle mvc at mm176 on the turnpike in northern SLC. A semi driving southbound, nicked a turtle causing it to go airborne and through a windshield of a nearby vehicle. Both driver and turtle were unharmed. The turtle was released safely.
It appears that the reptile completely destroyed the rearview mirror as it made its way into the vehicle.
This is not the first time a flying turtle has caused an accident on a Florida road. In April, a turtle crashed through a windshield, injuring the 71-year-old driver with a small cut near her eye. That turtle suffered some slight scratches on its shell, but it survived and was also released.
And….in 2016 in Volusia County a turtle crashed into the windshield of a vehicle, but in that incident, the reptile did not survive.
LOOK: 30 fascinating facts about sleep in the animal kingdom
Ten Iowa Trivia Questions
For more news, sports, and weather, download the KCRR app!