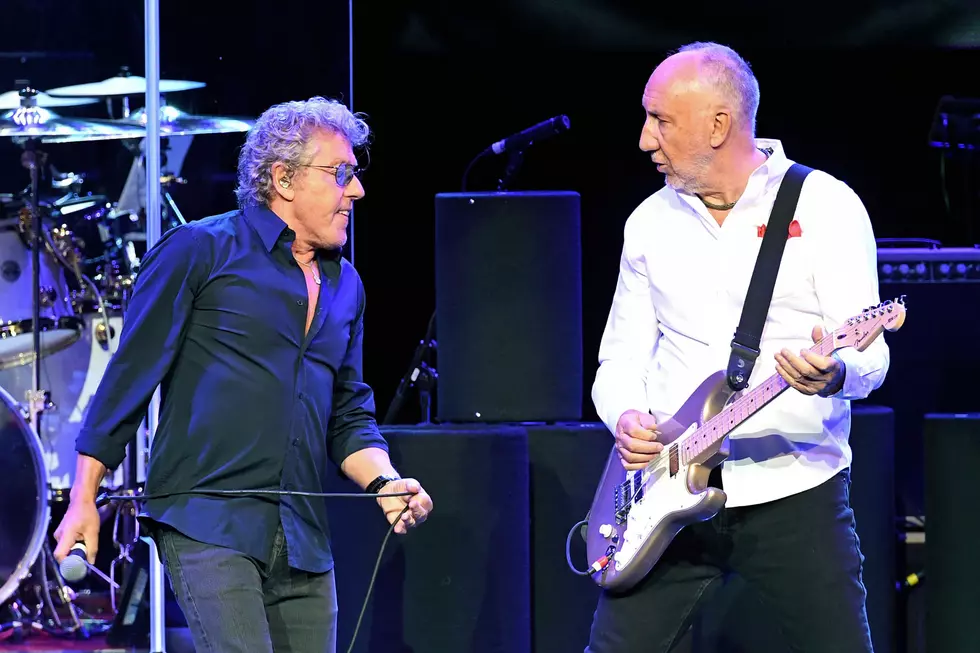 The Who to Introduce New Music During Fall Orchestral Tour
Ethan Miller, Getty Images
"Moving On" is moving out. The Who will be hitting the road this fall for their "Moving On!" orchestra tour, and in a new teaser for the trek that's premiering here at Loudwire, they reveal that new music will be introduced for the run.
It was revealed earlier this year that the Who were working on their first new songs in 13 years. "Roger wants to do two songs from the record. I'm really happy with the songs I wrote. I took a year out and I spent three months last year writing songs," Pete Townshend states.
Keith Levenson, the conductor working with the Who on their fall trek, adds, "It sounds like a Who record, but it sounds like a Who record that is 2019."
Levenson is also quite busy with the fall run, working with local orchestras that will support the band. "I have 1 to 4 with the orchestra alone, 4 to 4:30 with the band alone, 4:30 to 5:30 with the orchestra and the band. It's a long day," says the conductor.
And, as you might expect, bringing The Who's music to the concert stage is a thrill for some of the musicians joining them. "'Baba O'Riley' is very near and dear to my heart," says violinist Katie Jacoby, who adds, "I've been a huge Who fan since middle school. I tried to do windmills on my head with my violin and nearly split my head open with my bow, so leave the windmilling to Pete."
The Who's "Moving On!" 2019 North American tour, produced by Live Nation, will resume on Sept. 1 at New York's Madison Square Garden. Every pair of tickets purchased online will include a redeemable code for The Who's upcoming CD. In addition, $1 from every ticket sold on the "Moving On!" tour will benefit Teen Cancer America.
Watch the tour teaser below and get your tickets for the upcoming shows here.
The Who Fall 2019 Tour Dates
Sept. 1 - New York, N.Y. @ Madison Square Garden SPECIAL GUEST: LESLIE MENDLESON
Sept. 3 - Toronto, Ontario @ Scotiabank Arena SPECIAL GUEST: MOON VS SUN (Raine Maida and Chantal Kreviazuk)
Sept. 6 - St. Paul, Minn. @ Xcel Energy Center SPECIAL GUEST: Reignwolf
Sept. 8 - Alpine Valley, Wis. @ Alpine Valley Music Theatre SPECIAL GUEST: Dead Horses
Sept. 10 - Cuyahoga Falls, Ohio @ Blossom Music Center SPECIAL GUEST: Peter Wolf
Sept. 13 - Boston, Mass. @ Fenway Park SPECIAL GUEST: Peter Wolf
Sept. 15 - Wantagh, N.Y. @ Northwell Health at Jones Beach Theater SPECIAL GUEST: Reignwolf
Sept. 18 - Atlanta, Ga. @ State Farm Arena SPECIAL GUEST: Reignwolf
Sept. 20 - Ft. Lauderdale, Fla. @ BB&T Center SPECIAL GUEST: Reignwolf
Sept. 22 - Tampa, Fla. @ Amalie Arena SPECIAL GUEST: Reignwolf
Sept. 25 - Houston, Texas @ Toyota Center SPECIAL GUEST: Reignwolf
Sept. 27 - Dallas, Texas @ American Airlines Center SPECIAL GUEST: Reignwolf
Sept. 29 - Denver, Colo. @ Pepsi Center SPECIAL GUEST: Reignwolf
Oct. 9 - San Francisco, Calif. @ Chase Center SPECIAL GUEST: Liam Gallagher
Oct. 11 - Los Angeles, Calif. @ Hollywood Bowl SPECIAL GUEST TBA
Oct. 13 - Los Angeles, Calif. @ Hollywood Bowl SPECIAL GUEST TBA
Oct. 16 - San Diego, Calif. @ Viejas Arena at Aztec Bowl SPECIAL GUEST: Liam Gallagher
Oct. 19 - Seattle, Wash. @ T-Mobile Park SPECIAL GUEST: Liam Gallagher
Oct. 21 - Vancouver, British Columbia @ Pepsi Live at Rogers ArenaSPECIAL GUEST: Liam Gallagher
Oct. 24 - Los Angeles, Calif. @ Hollywood Bowl SPECIAL GUEST: Liam Gallagher
The 66 Best Hard Rock + Metal Guitarists of All-Time