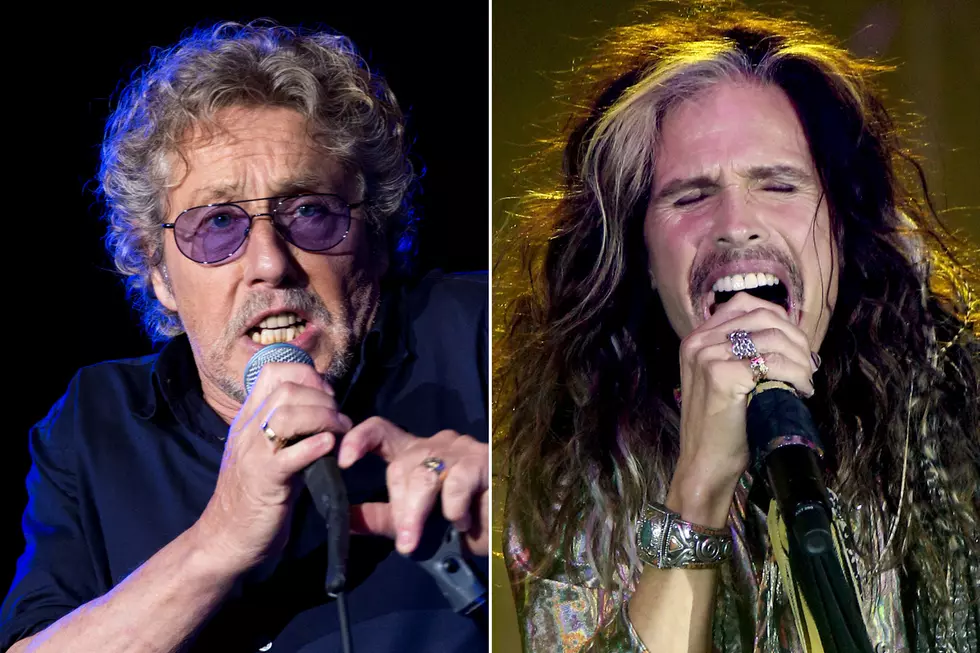 The Who and Aerosmith Call Off Shows Over Singers' Voices
Ian Gavan / Phillip Faraone, Getty Images
The Who, who had to give up on a Moving On! orchestral performance in Houston after Daltrey's voice gave up around 45 minutes in, stated that appearances in Dallas tonight and Denver on Sunday will take place next year instead. Aerosmith did not announce a rescheduled date for last night's canceled Las Vegas residency appearance.
"Roger's got bronchitis so we're having to cancel the show in Dallas and also the show in Denver," Who guitarist Pete Townshend said in an Instagram video. "We will redo those shows … come back to Houston and rejig that show because we only played 45 minutes last night. Next April or May. We're doing the New Orleans jazz festival, I believe, and we'll probably come straight into Houston and Dallas and up to Denver too to replace those shows."
He added that he was "sorry for anybody who's really gonna be put out. I know it's not just about the tickets, it's about all kinds of other stuff. … I'm sorry again, but we will be back and we'll fulfill those dates. And Roger is getting better already, so thanks a lot, and lots of love to you all."
Meanwhile, Tyler tweeted a photo of himself with a sign reading "Out of order" on his throat. "I lost my voice," he wrote. "But I can't talk about it."
He noted that refunds for the show at the Park Theater in Vegas would be available from points of purchase. Aerosmith's next scheduled appearance is Sept. 28, with Deuces Are Wild dates booked until June 4, 2020.
The Who Albums Ranked