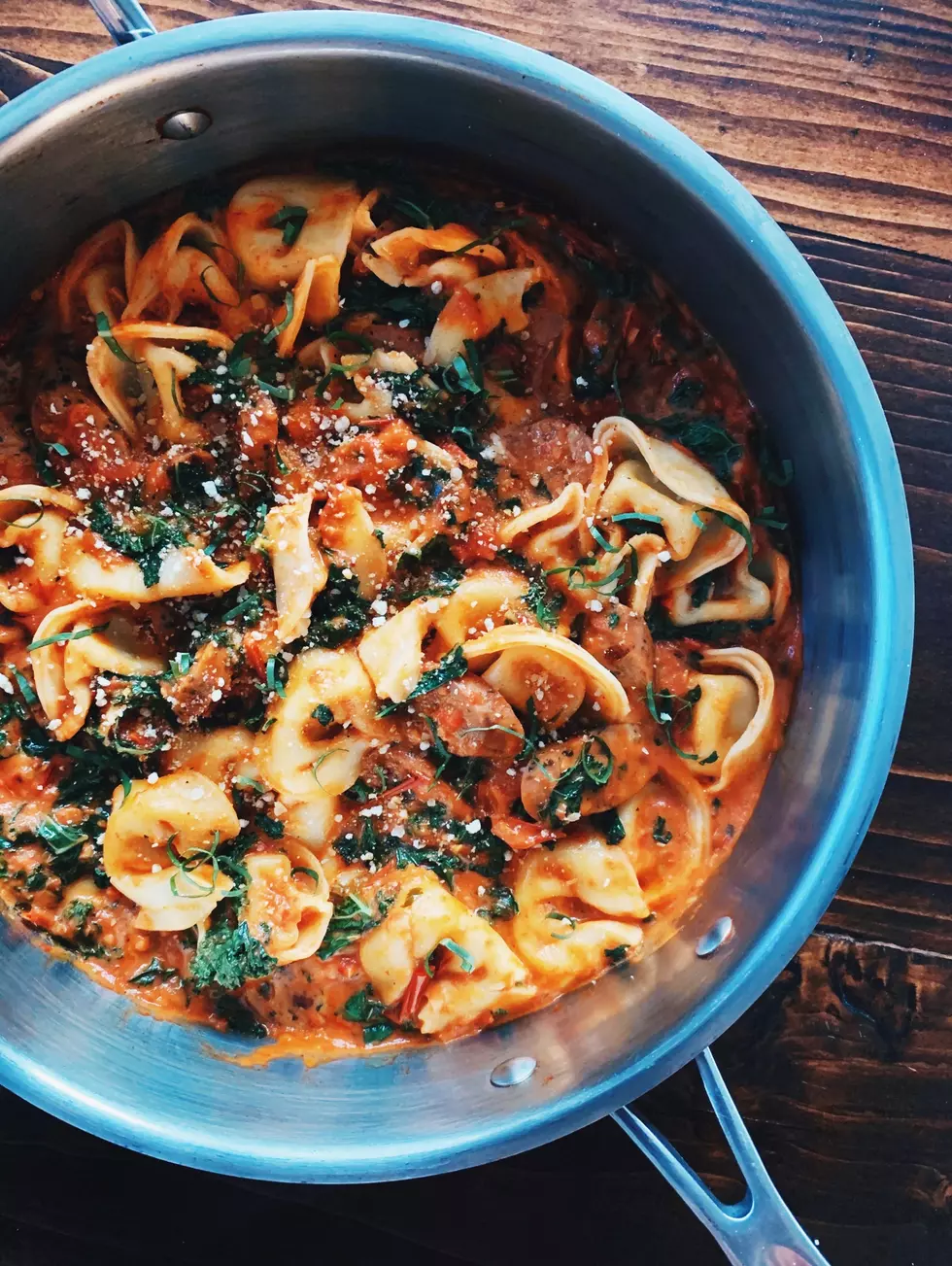 The Hangry Iowa Foodie: Tomato & Chicken Sausage Tortellini Skillet
TSM Waterloo
I married into an Italian family. And, I'm glad my husband's grandmother doesn't have a computer to read what I'm about to type. In case you didn't know, Italians take spaghetti night pretty seriously. Even so, they take Sunday gravy even more seriously. She gave me her handwritten recipes that she has carried with her and added to her whole life.
My sister-in-law and I were excited to finally make her famous Sunday gravy that our husbands just rave about. I flipped through the accordion recipe file like a kid tears through wrapped presents on his birthday. I pulled out the card that reads "gravy," held it up, began reading, and it flopped on my lap when to my surprise her gravy was made with canned ingredients. 
So, now my sister-in-law and I are like "now what?" We have this huge sack of ripe tomatoes from our local farmer's markets sitting respectively on both of our counters, in two different states mind you, ready to make this highly respected  gravy. We have since been made aware that back then, you cooked with what you had. If you had fresh tomatoes, then you made gravy with fresh tomatoes. If you were only able to get canned tomatoes, then you made gravy with canned tomatoes. 
This Tomato and Chicken Sausage Tortellini Skillet is sweet from the tomatoes cooking down and caramelizing, cheesy - because we can't live without cheese, and a bit of crunchiness from the toasted breadcrumb topping. It has the perfect contrast of texture with the best melting and balance of flavors. 
This sauce will never hold up to my husband's grandmother's gravy, but this dish is an homage to her!
Enter your number to get our free mobile app
Tomato & Chicken Sausage Tortellini Skillet Recipe
Philly Cheesesteak Stuffed Peppers Recipe