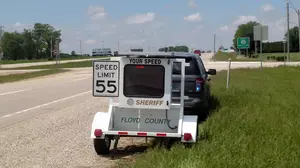 Speed "Reminders" Parked Along Avenue of Saints
Photo from Floyd Co. Sheriff
Drivers along the Avenue of the Saints in Northeast Iowa, are getting a reminder to have a safe holiday weekend, by slowing down and obeying the posted speed limits.
The Floyd County Sheriff's Office is teaming up with the Iowa Department of Transportation in providing electronic speed trailers, which are located along the Avenue of the Saints, on each end of the town of Floyd. The signs will project the speed of each passing vehicle.
Authorities remind drivers of the high volume of motorists who will be on the roads this long Memorial Day Weekend; there will also be more law enforcement monitoring traffic, looking for speeding violations, as well as seat belt use, impaired driving, and distracted drivers using electronic devices, during the state-wide "Click it or Ticket" campaign.