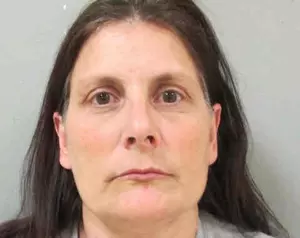 Sheriff Looking for 3 Suspects, in 3 Separate Incidents
Dawn Fernette. Photo from Fayette Co. Sheriff
The Fayette County Sheriff is asking for the public's help in locating three area residents wanted on arrest warrants in 3 separate incidents.
On Thursday (Sept. 21), the Fayette County Sheriff filed forgery charges on 54 year old Dawn Fernette of West Union. Fernette allegedly forged a document involving a civil issue, where she presented forged documents where she paid more than she actually did. The warrant was issued with a bond set at $5,000.
Also last Thursday, the sheriff conducted a check on the sex offender registry and discovered that 31 year old Cory Hursey of Oelwein was no longer living at his registry address. Authorities were not able to locate Hursey, and a charge of Failure to Comply with the Sex Offender Registry-1st Offense, was filed. His bond was set at $5,000.
And on Friday (Sept. 22) the sheriff charged 42 year old Mark Opperman of Hawkeye with Possessing a Firearm as a Felon. The firearm was recovered, and a warrant for Opperman's arrest was issued, with a bond of $5,000. If convicted, he could face 5 years in prison.
Anyone with information on any of these suspects is asked to contact the Fayette County Sheriff's Office.