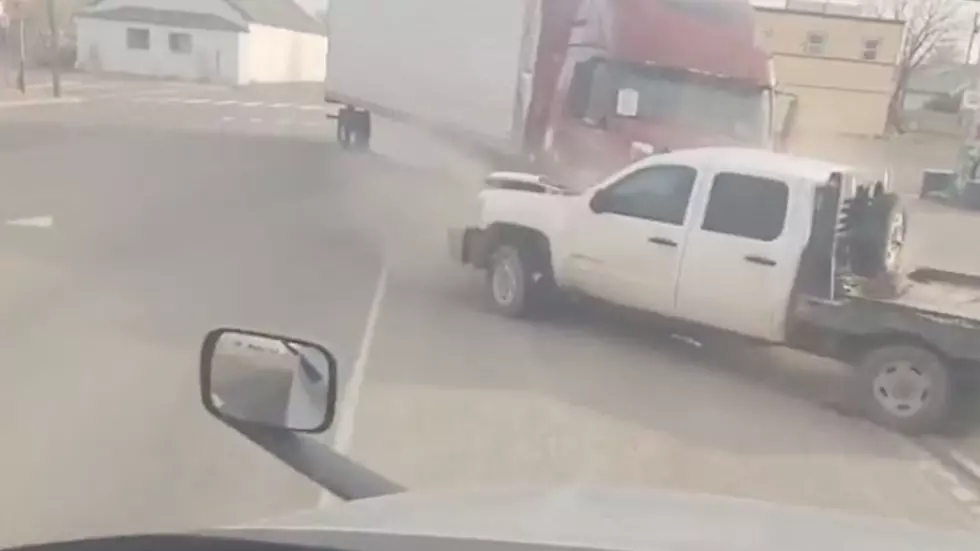 Angry Semi Driver Goes on Rampage in Small Town, Rams His Truck Into Cars
TruckerTex via TikTok
The small town of McDermitt, Nevada, where the population is 95, was under attack when a semi-driver went on a rampage, driving around the town and slamming his truck and trailer into other drivers.
"I was driving into Mcdermitt, right at the border of Nevada and Oregon, and I see this dude in the red semi pull out of the parking lot. I just saw the dude launch towards the pickup truck. He missed them, and then there was another little white car. He hit that car," Jose Losoya explained of the video he took from the cab of his own truck.
The video shows the truck hitting a small car in the parking lot of a business, before speeding off around the building. As the semi comes back into view, a pickup truck is pulling onto the same road as the semi.
Your blood will turn cold as you watch this semi floor it to pick up speed before hitting and pushing the pickup truck off camera.
From Jose's video, you can see that in the impact with the pickup, Jose's truck is also struck.
Jose ran to the truck once it was stopped, where the driver had barricaded himself into the cab.
"I could hear him messing with the air brakes. I guess he was still trying to move or something. I disconnected his airlines to the trailer so he couldn't move and we just waited for the cops. Took about an hour for them to get there." Jose said.
After 10 minutes of coaxing, police were able to talk the driver into leaving the truck.
Nobody was reported to be injured in the rampage, though multiple vehicles were damaged.
Read more at CDL Life 
25 True Crime Locations: What Do They Look Like Today?
Below, find out where 25 of the most infamous crimes in history took place — and what the locations are used for today. (If they've been left standing.)