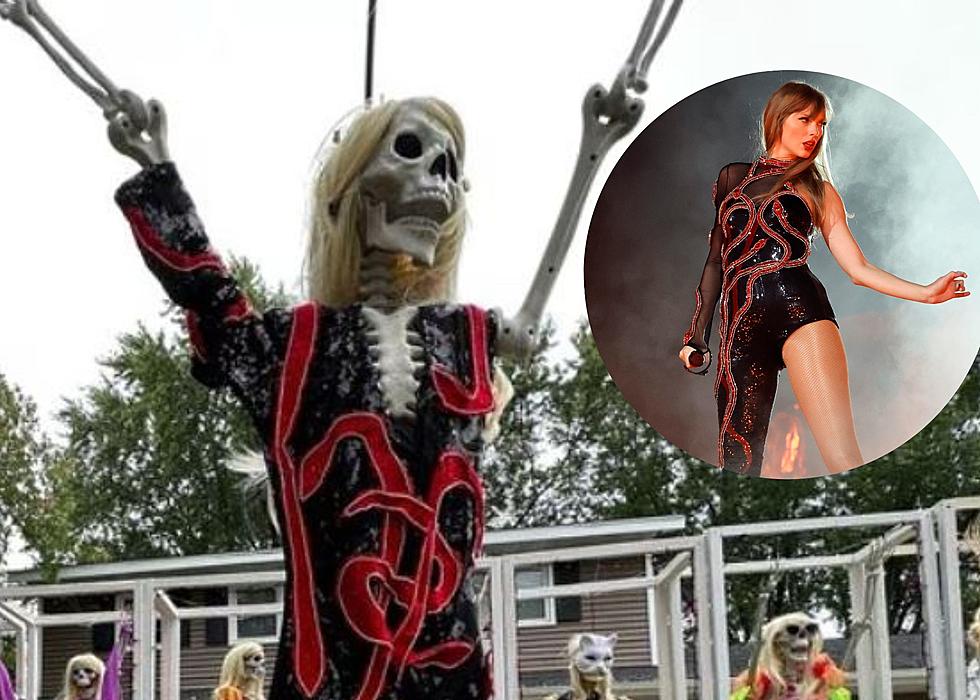 See Wisconsin Woman's Taylor Swift 'Sc-Eras Tour' Halloween Display
WMTV/Getty Images
It's Halloween (Taylor's Version) in Wisconsin.
It's safe to say Taylor Swift has had a chokehold on America this year, and that's extending into Halloween. I'm sure couples will be dressed up as Taylor Swift and Travis Kelce a lot but there's a different level of dedication from one Wisconsin woman.
NBC15 says that Katelyn Mclaughlin, who lives in Sun Prairie, is really embracing Taylor's huge Eras tour but making it seasonal, putting in her yard what she calls the 'Sc-ERAS Tour'.
Katelyn went to the actual Eras tour back in June and that display is inspired by the 'Reputation' part of Taylor's show. The singer brings out different "versions" of her in glass boxes and Katelyn decided that's the scene she would bring out in her yard. She told the news outlet:
In August I was talking to my husband and I was like oh my gosh, we should decorate our skeletons as the Eras Tour!
The neighborhood loves it. Her neighbor said:
I think the whole neighborhood has just enjoyed this so much! People slow down take a picture so the community is just thrilled
The attention to detail on all of Taylor's 'Eras' outfits is fantastic. The costumes are handmade. Here's her "You Belong With Me", "Speak Now", and "Red" outfits.
In addition to those, Katelyn included her gold "Fearless" dress, her "Shake It Off" cheerleader costume, her "Look What You Made Me Do" costume, a "Lover" era outfit, and outfits for 2020 sister albums "folklore" and "evermore".
I bet there's a lot of hard work that went into making those fantastic costume replicas! Swifties are in their Halloween Era.
Californians Moving To Wisconsin Are In For A Rude Awakening
Californians are leaving
the Golden State for what they think is a better life. It probably is compared to the craziness that happens in Cali, but they will be shocked when they find out what Wisconsin has in store for them.
Gallery Credit: Connor Kenney/Townsquare Media Quad Cities
Chris Farley's Childhood Home
822 Farwell Dr, Madison, Wisconsin was the home of a comedic genious.
Gallery Credit: Bill Stage