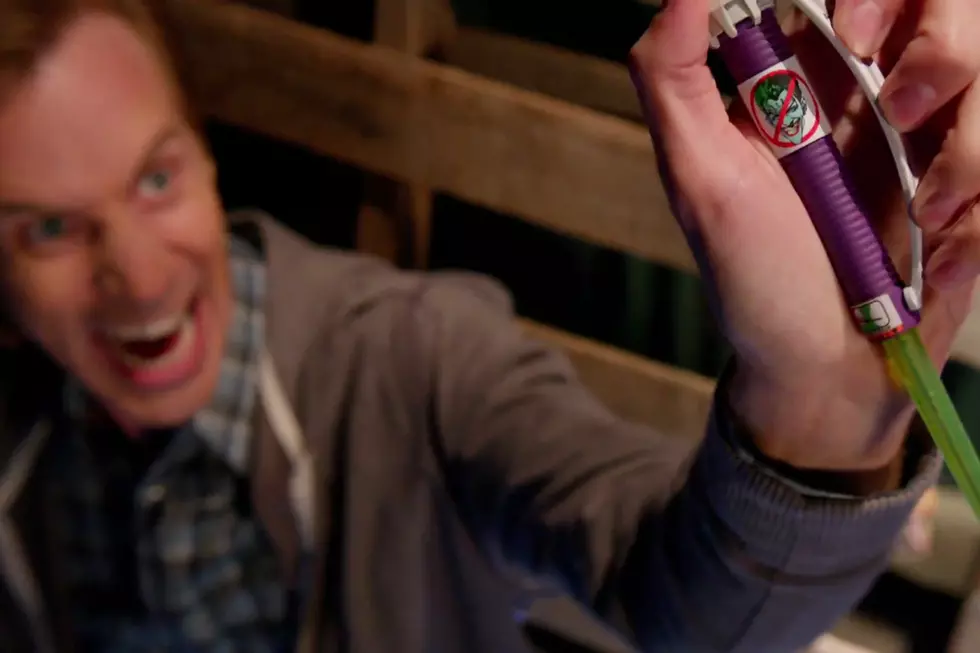 'Powerless' Protects Against Joker Gas in New In-Universe Promo
NBC
Love that Joker, but not in the mood to laugh? NBC's Powerless has you covered. A clever new in-universe ad for the NBC DC comedy promotes Wayne Security's latest anti-villain measure; one that should get you out of a jam when the Clown Prince of Crime rolls through town with his famous laughing gas.
Where previous Powerless trailers have relied mostly on name-dropping famous DC heroes and villains, the latest promo eschews the cast entirely for an actual Wayne Security ad. It's unclear if any of the Joker Gas Anti-Venom ad represents actual footage from the series, but if so, we might be catching a masked glimpse of Batman's arch-nemesis as well.
Note the Gotham City squad cars, rather than Powerless' Charm City:
While we wait, so reads the full synopsis:
In a world where humanity must cope with the collateral damage of Super Heroes and Super-Villains, Emily Locke (Vanessa Hudgens) begins her first day as Director of Research & Development for Wayne Security, a subsidiary of Wayne Enterprises that specializes in products that make defenseless bystanders feel a little safer. Full of confidence and big ideas, Emily quickly learns that her expectations far exceed those of her new boss (Alan Tudyk) and officemates, so it will be up to her to lead the team toward their full potential and the realization that you don't need superpowers to be a hero.
The February 2 premiere is fast approaching, so does Powerless seem worth checking out?