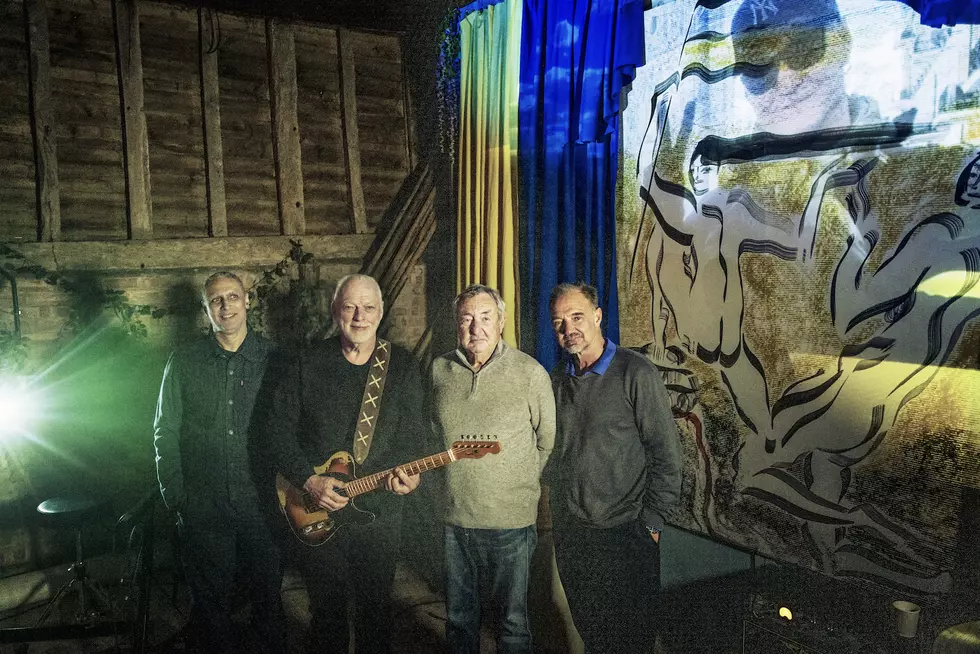 Pink Floyd Return Is 'One-off' Says David Gilmour
Pink Floyd
David Gilmour confirmed that Pink Floyd's recent return to action was a "one-off" event and doesn't mean there will be more new activity to follow.
This week, the band released the single "Hey, Hey, Rise Up" as an act of support for Ukraine against the current Russian invasion. Based on a folk song and including vocals by Ukrainian singer Andriy Khlyvnyuk, it's the first new Floyd music since 1994 and comes after they wound down following the release of archive-based album, The Endless River, in 2014.
"I thought this could be something that we use our platform for, for enormous good," Gilmour told Rolling Stone in a new interview. "When I spoke to Nick [Mason], and he said he was willing to do it as Pink Floyd, it seemed like a no-brainer. We want to spread this message of peace, and we want to raise the morale of the people who are defending their homeland there in Ukraine."
The Floyd guitarist revealed that Khlyvnyuk was wary when the pair made contact by phone: "I gave him a ring, and I think he was maybe a little suspicious of whether I was genuine or not. He said, 'Could we do this on a FaceTime video call?' So I said, 'Sure.' When he recognized me and he was assured that it was all for real, from then on, he was great. He loved the track, and I'm just thrilled for him and for us for taking a little step for humanity in the midst of all the inhumanity that's been going on there."
Gilmour said it was "fantastic" to have worked with Mason again, noting: "Nick is like no other drummer. It's a wonderful thing for us to be together playing a song that means something fantastic." He also reported that he'd constructed the guitar solos in his normal fashion: "I suppose what I do a lot is improvise and then fix. If I make mistakes – which I make a lot of – we go in and figure out a new bit for that part. Usually the best part of it is the stuff that comes straight off the top of your head."
But when asked if he was "considering more Pink Floyd music," he responded: "This is a one-off for Pink Floyd. I'm casually working away all the time. I'm hoping to get an album finished at some point, but my focus at this very moment is just on this."
Top 50 Progressive Rock Albums
From 'The Lamb' to 'Octopus' to 'The Snow Goose' — the best LPs that dream beyond 4/4.