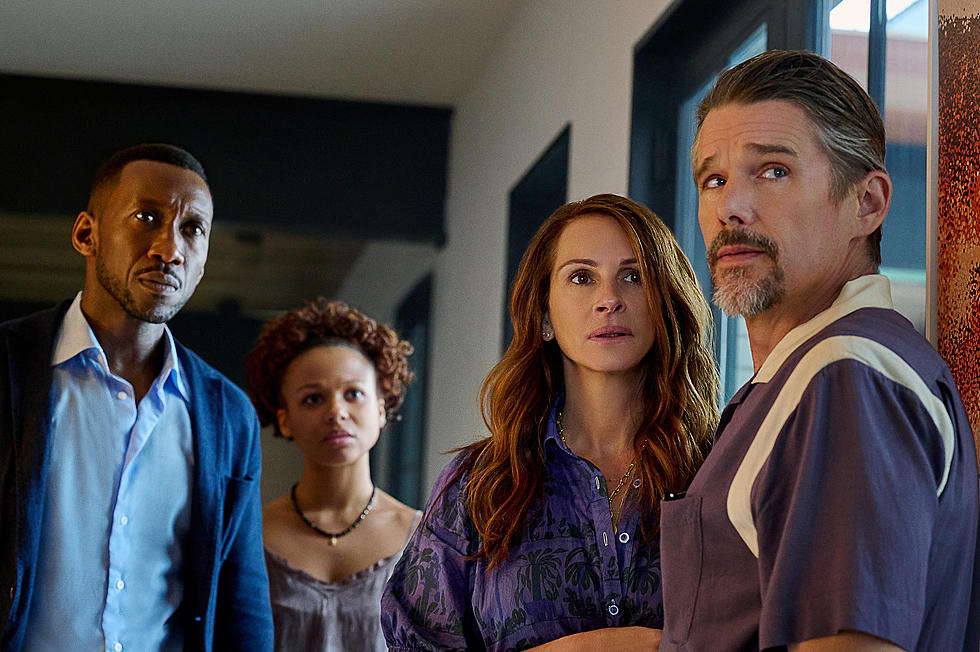 Netflix Fall Preview: 28 Blockbusters Coming to Streaming
Netflix
Just like in movie theaters, fall on Netflix means big movies and potential awards contenders — or sometimes both combined. For example, in just a few weeks you'll be able to stream Maestro, directed by and starring Bradley Cooper as famed composer and conductor Leonard Bernstein. Or if you're in the mood for something a bit more action-oriented, you can watch The Killer starring Michael Fassbender, which is the latest thriller from auteur David Fincher.
Netflix's fall 2023 includes 28 titles, and also features stars like Jennifer Garner, Julia Roberts, Mahershala Ali, Benicio Del Toro, Annette Bening, Jodie Foster, and Adam Sandler, plus new movies by Pablo Larrain, Wes Anderson, and Zack Snyder. It's pretty stacked, all things considered.
Here's a look at all the new movies coming to Netflix (and, in a few cases, to theaters) this fall:
Sept. 6
Scouts Honor: The Secret Files of the Boy Scouts of America
Through compelling on-screen interviews and vérité, this investigative documentary will reveal the institutional cover-up and follow the whistleblowers fighting to bring justice against what was once one of America's most beloved and trusted institutions.
Sept. 15
Love at First Sight
After missing her flight from New York to London, Hadley (Haley Lu Richardson) meets Oliver (Ben Hardy) in a chance encounter at the airport that sparks an instant connection. A long night on the plane together passes in the blink of an eye but upon landing at Heathrow, the pair are separated and finding each other in the chaos seems impossible. Will fate intervene to transform these seatmates into soulmates?
On Netflix Sept. 15 | In Select Theaters Sept. 7
El Conde
The story revolves around Augusto Pinochet who is not dead but an aged vampire who, after 250 years in this world, has decided to die once and for all, due to ailments brought about by his dishonor and family conflicts.
Sept. 19
The Saint of Second Chances
Mike Veeck grew up in the shadow of his hustler father, Hall of Fame baseball owner Bill Veeck. The Veeck name became both legendary and notorious in professional baseball as they introduced the fun at ballparks — giveaways, theme nights, fireworks, and more. But it all came to a screeching halt when Mike blew up his father's career. Exiled from the game he loved, the younger Veeck spent the next few decades clawing his way up from rock bottom, determined to redeem himself. After receiving distressing news, what started as a journey to reclaim the family legacy, became an opportunity to appreciate that family more fully.
Sept. 22
Spy Kids: Armageddon
When the children of the world's greatest secret agents unwittingly help a powerful game developer unleash a computer virus that gives him control of all technology, they must become spies themselves to save their parents and the world.
On Netflix Sept. 27 | In Select Theaters Sept. 20
The Wonderful Story of Henry Sugar
A beloved Roald Dahl short story about a rich man who learns about a guru who can see without using his eyes and then sets out to master the skill in order to cheat at gambling.
Sept. 27
Forgotten Love (Znachor)
Respected surgeon loses his family and memory. Many years later, forgotten and poor, he meets his grown-up daughter but both are not aware of their connection. Moving to tears! Third movie inspired by the cult novel by Tadeusz Dołęga-Mostowicz.
On Netflix Oct. 6 | In Select Theaters Sept. 29
Reptile
Following the brutal murder of a young real estate agent, a hardened detective attempts to uncover the truth in a case where nothing is as it seems, and by doing so dismantles the illusions in his own life.
READ MORE: Netflix Just Invented the Perfect Movie Genre
On Netflix Oct.13 | In Select Theaters Sept. 29
Fair Play
When a coveted promotion at a cutthroat financial firm arises, once supportive exchanges between lovers Emily (Phoebe Dynevor) and Luke (Alden Ehrenreich) begin to sour into something more sinister. As the power dynamics irrevocably shift in their relationship, the couple must face the true price of success and the unnerving limits of ambition.
Oct. 17
The Devil on Trial
The Devil on Trial explores the first — and only — time "demonic possession" has officially been used as a defense in a US murder trial. Including firsthand accounts of alleged devil possession and a shocking murder, this extraordinary story forces reflection on our fear of the unknown.
Oct. 20
Old Dads
Three best friends become fathers later in life and find themselves battling preschool principals, millennial CEOs, and anything created after 1987.
On Netflix Oct. 27 | In Select Theaters Oct. 20
Pain Hustlers
Liza Drake (Emily Blunt) is a blue-collar single mom who has just lost her job and is at the end of her rope. A chance meeting with pharmaceutical sales rep Pete Brenner (Chris Evans) puts her on an upwards trajectory economically but dubious path ethically as she becomes entangled in a dangerous racketeering scheme. Dealing with her increasingly unhinged boss (Andy Garcia), the worsening medical condition of her daughter (Chloe Coleman), and a growing awareness of the devastation the company is causing forces Liza to examine her choices.
Oct. TBD
Sister Death (Hermana Muerte)
In post-war Spain, Narcisa (Aria Bedmar), a young novice with supernatural powers, arrives at a former convent, now a school for girls, to become a teacher. As the days go by, the strange events and increasingly disturbing situations that torment her will eventually lead her to unravel the terrible skein of secrets that surround the convent and haunt its inhabitants.
Nov. 1
Wingwomen (Voleuses)
Best friends Carole and Alex are two master thieves — they're both attractive and ruthless, and remain undefeated. Tired of life on the run, they agree to take on one last heist and ask feisty Sam to assist them in one last job — unlike any they've done before. They don't realize the mission will turn out to be very different from what they expected.
On Netflix Nov. 3 | In Select Theaters Oct. 20
NYAD
A remarkable true story of tenacity, friendship, and the triumph of the human spirit, NYAD recounts a riveting chapter in the life of world-class athlete Diana Nyad. Three decades after giving up marathon swimming in exchange for a prominent career as a sports journalist, at the age of 60, Diana (four-time Academy Award nominee Annette Bening) becomes obsessed with completing an epic swim that always eluded her: the 110-mile trek from Cuba to Florida, often referred to as the "Mount Everest" of swims. Determined to become the first person to finish the swim without a shark cage, Diana goes on a thrilling four-year journey with her best friend and coach Bonnie Stoll (two-time Academy Award winner Jodie Foster) and a dedicated sailing team.
Nov. 3
Sly
For nearly 50 years, Sylvester Stallone has entertained millions with iconic characters and blockbuster franchises, from Rocky to Rambo to The Expendables. This retrospective documentary offers an intimate look at the Oscar-nominated actor-writer-director-producer, paralleling his inspirational underdog story with the indelible characters he has brought to life.
On Netflix Nov. 10 | In Theaters Oct. 27
The Killer
After a fateful near-miss, an assassin battles his employers, and himself, on an international manhunt he insists isn't personal.
Nov. 15
Stamped From the Beginning
Oscar-winning director Roger Ross Williams brings Dr. Ibram X. Kendi's New York Times bestseller to the screen with Stamped from the Beginning. Published in 2016, Dr. Kendi's National Book Award winner chronicles the entire story of anti-Black racist ideas and their staggering power over the course of American history.
Nov. 16
Best. Christmas. Ever!
Every Christmas, Jackie sends a boastful holiday newsletter that makes her old college friend Charlotte feel like a lump of coal. When a twist of fate lands Charlotte and her family on Jackie's snowy doorstep just days before Christmas, she seizes the opportunity to prove her old friend's life can't possibly be that perfect.
On Netflix Nov. 17 | In Select Theaters Nov. 3
Rustin
The architect of 1963's momentous March on Washington, Bayard Rustin was one of the greatest activists and organizers the world has ever known. He challenged authority, never apologized for who he was, what he believed, or who he desired. And he did not back down. He made history, and in turn, he was forgotten.
Nov. 21
Leo
Actor and comedian Adam Sandler (Hotel Transylvania, The Wedding Singer) delivers signature laughs in this coming-of-age animated musical comedy about the last year of elementary school –– as seen through the eyes of a class pet. Jaded 74-year-old lizard Leo (Sandler) has been stuck in the same Florida classroom for decades with his terrarium-mate turtle (Bill Burr). When he learns he only has one year left to live, he plans to escape to experience life on the outside but instead gets caught up in the problems of his anxious students — including an impossibly mean substitute teacher. It ends up being the strangest but most rewarding bucket list ever…
Nov. 30
Family Switch
Jess and Bill Walker are doing their best to keep their family connected as their children grow older, more independent, and more distant. When a chance encounter with an astrological reader causes the family to wake up to a full body switch –– on the morning of the most important day of each of their lives –– can the Walkers unite to land a promotion, college interview, record deal, and soccer tryout?
US and Canada Dec. 1 | In Select Theaters Nov. 17
May December
Twenty years after their notorious tabloid romance gripped the nation, a married couple buckles under the pressure when an actor arrives to do research for a film about their past.
Dec. 7
The Archies
Set in '60s India in the fictional hill station town called Riverdale, The Archies is a coming-of-age musical following the lives of the town's favorite set of teenagers –– Archie, Betty, Veronica, Jughead, Reggie, Ethel, and Dilton. Seen through the lens of the unique Anglo-Indian community, The Archies explores friendship, freedom, love, heartbreak, and rebellion.
On Netflix Dec. 8 | In Select Theaters
Leave the World Behind
A family's vacation is upended when two strangers arrive at night, seeking refuge from a cyberattack that grows more terrifying by the minute, forcing everyone to come to terms with their places in a collapsing world.
Dec. 15
Chicken Run: Dawn of the Nugget
Having pulled off a death-defying escape from Tweedy's farm, Ginger has finally found her dream — a peaceful island sanctuary for the whole flock, far from the dangers of the human world. When she and Rocky hatch a little girl called Molly, Ginger's happy ending seems complete. But back on the mainland the whole of chicken-kind faces a new and terrible threat. For Ginger and her team, even if it means putting their own hard-won freedom at risk — this time, they're breaking in!
On Netflix Dec. 20 | In Select Theaters Nov.22
Maestro
Maestro is a towering and fearless love story chronicling the lifelong relationship between Leonard Bernstein and Felicia Montealegre Cohn Bernstein. A love letter to life and art, Maestro at its core is an emotionally epic portrayal of family and love.
Dec. 22
Rebel Moon — Part One: A Child of Fire
From Zack Snyder, the filmmaker behind 300, Man of Steel, and Army of the Dead, comes Rebel Moon, an epic science-fantasy event decades in the making. When a peaceful colony on the edge of a galaxy finds itself threatened by the armies of a tyrannical ruling force, Kora (Sofia Boutella), a mysterious stranger living among the villagers, becomes their best hope for survival. Tasked with finding trained fighters who will unite with her in making an impossible stand against the Mother World, Kora assembles a small band of warriors — outsiders, insurgents, peasants, and orphans of war from different worlds who share a common need for redemption and revenge.