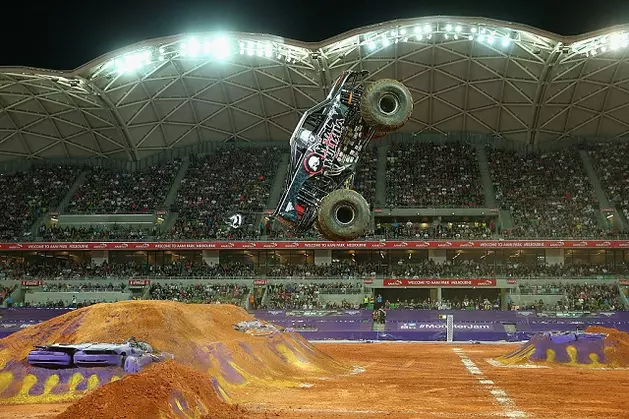 Monster Jam Passes – Sign Up!!!
Quinn Rooney - Getty Images
Register below and make sure you fill out the form completely so you can smell the fumes of manliness! It's MONSTER JAM at the U.S. Cellular Center in Cedar Rapids on Saturday, October 28th and Sunday, October 29th. The best part is, if you happen to win one of our Family 4-packs, you can choose between one of three different shows. That'll make it easier on the calendar AND pocket book.
We'll draw our winners on Monday, October 23rd and contact them immediately!
Monster Jam Featuring: Avenger driven by Jim Koehler, Brutus driven by Brad Allen, El Toro Loco driven by Collete Davis, Grave Digger driven by Tyler Menninga, Master of Disaster driven by Paul Strong, Max-D driven by Jared Eichelberger, Mutant driven by Steven Sims, Stinger driven by Zane Rettew, Trucks/drivers subject to change.
(Trucks/Drivers Subject to Change)
Good Luck!
Doors Open @ Noon
Show Starts @ 1:00 P.M.
Party in the Pits @ 10:30 A.M. – 12:00 P.M. (Pit Pass: $10 A corresponding 1pm event ticket must accompany the Pit Pass for admission Ages 2 & older require a Pit Pass and ticket)
Doors Open @ 6:00 P.M.
Show Starts @ 7:00 P.M.
Doors Open @ Noon
Show Starts @ 1:00 P.M.
Pit Party @ 10:30 A.M. – 12:00 P.M. (Pit Pass: $10 A corresponding 1pm event ticket must accompany the Pit Pass for admission Ages 2 & older require a Pit Pass and ticket)