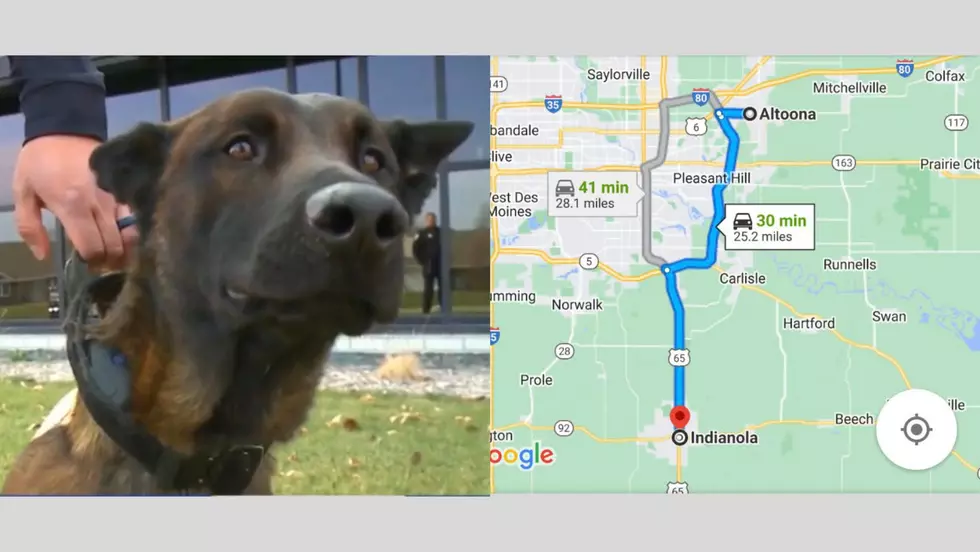 Missing Iowa Police K9 Found… 25 Miles Away From Station
KCCI YouTube Channel, Google Maps
My first thought upon seeing this story was "What? How do police officers lose a K9 that's part of their unit? How would that happen given the training of the dog and the fact that we rely on law enforcement to help us find missing persons?"
Let alone how this K9 somehow was found in a city 25 miles away from where it's stationed at.
I imagine you're in the same boat after clicking on this article. And well, it's an interesting story.
According to KCCI, Zeke, a 100-pound Belgian Malinois and K9 officer at the Altoona Police Department was reported missing on Sunday evening around 5 PM in Warren County. Zeke was being watched by a professional handler while his own handler, Altoona police officer Cody Poffenberger, was on vacation.
He had just returned home when he received the call that his furry companion had gone missing.
A Warren County resident and former police officer saw Zeke near his house, and he did his best to locate the K9. Unfortunately, though, he took off.
Later in the night, he was spotted in a field, 4.5 miles away from the last spot he was seen. KCCI continues regarding the search that ensued: "Forty-five people from different agencies and everyday people searched for Zeke. They used drones, heat detection technology, and more, but their efforts came up empty. The search for Zeke was called off after 10 Sunday night."
Roughly 15 minutes after the search was ended, a local firefighter found Zeke in his yard.
Lt. Alyssa Wilson with the Altoona Police Department explained what happened next:
The firefighter saw Zeke and said 'Zeke here' and Zeke came right over and was reunited with officer Poffenberger. His ears were tucked his tail was tucked. He knew he was in trouble. He knew he had gone too far.
She added that having Zeke back was great for not only Altoona PD, but Cody's family, too:
Not only is K-9 Zeke a member of our police department family, but also a crucial family member to the Poffenbergers.
Dog-O-Ween 2022
On Sunday, October 30th, we had the pleasure of teaming up with Theisen's for their annual Dog-O-Ween event! Here are some photos from the competition!
10 Exotic Animals You Can't (But Would Be Really Fun To) Own in Iowa
These creatures can be found all over the world -- some are adorable and some are ferocious. I'm sure it's all about how you raise them. Either way, you can't have one in Iowa, which frickin' sucks.