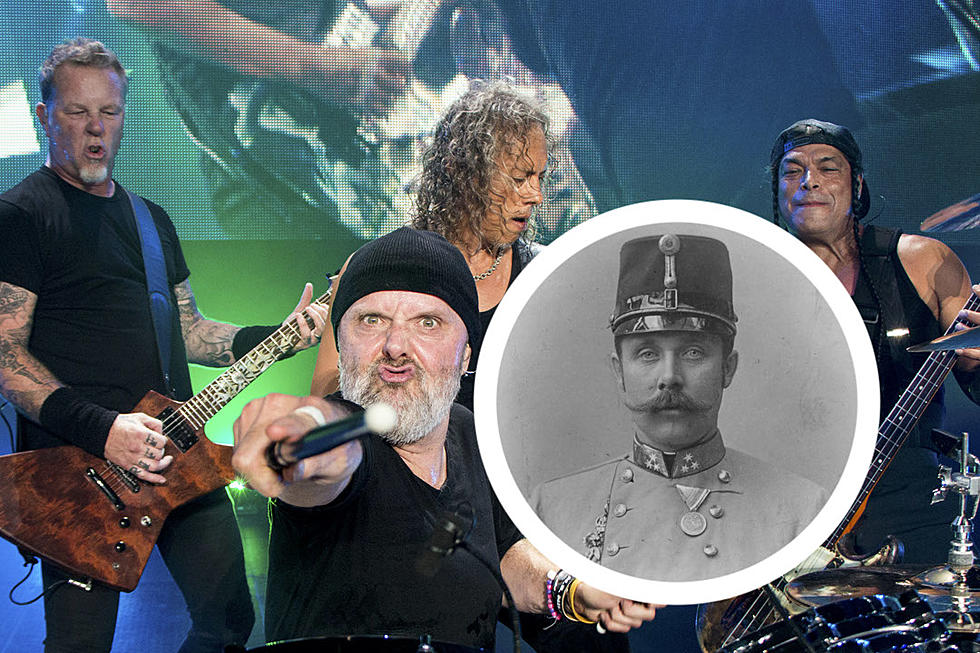 Students Presume Metallica Were Named After Historical Figure
Jeff Yeager / C. Pietzner (Hulton Archive), Getty Images
Metallica didn't take their name from a historical Austrian archduke. But in a bit of proof that the band appeals across generations better than others, some students recently guessed that they did.
Those are the circumstances humorously described this week in a viral tweet from New York-based writer and educator Christina E. Cox. On Monday (April 4), the instructor explained that her pupils hilariously (if not disquietingly) suggested the possibility of an "Archduke Metallica" when she hinted that a pivotal historical figure shared their name with a band.
Cox was actually referring to Archduke Franz Ferdinand, the Austro-Hungarian monarch whose 1914 death helped lead to World War I. His name was repurposed by the Scottish rockers Franz Ferdinand, makers of the 2004 hit "Take Me Out." But it appears that her class was more aware of the Bay Area heavy metal pioneers than the mid-2000s indie-rockers.
"Today, when introducing WWI, a student raised her hand and brought up the death of a certain archduke," Cox said. "Nobody knew his name, so as a hint, I offered that he shares his name with a band."
She added, "Gentle reader, my students asked if there had perhaps been an Archduke Metallica."
The tweet got plenty of equally funny responses. The instructor retweeted one that said, "Archduke Metallica's famous last words to his wife Archduchess Red Hot Chili Pepper (who carried these with her forever) were: 'give it away, give it away, give it away now.'"
Metallica, now together over 40 years, will tour America and Europe in 2022. See the dates under the tweet. Several new documentaries about the band are currently rolling out via The Coda Collection. Metallica frontman James Hetfield's 21-year-old son, Castor, recently released his first album with his band, Bastardane. A toilet fashioned after Metallica drummer Lars Ulrich will display at a Danish museum.
The Alex Kapranos-led Franz Ferdinand last released Always Ascending in 2018. A greatest hits collection spanning the act's career, Hits to the Head, arrived last month.
Metallica 2022 Tour Dates
April 27 – Santiago, Chile @ National Stadium
April 30 – Buenos Aires, Argentina @ Polo Grounds
May 5 – Porto Alegre, Brazil @ Estacionamento
May 7 – Curitiba, Brazil @ Couto Pereira
May 10 – Sao Paulo, Brazil @ Morumni Stadium
May 12 – Belo Horizonte, Brazil @ Mineirao Stadium
May 27 – Napa, Calif. @ BottleRock
May 29 – Boston, Mass. @ Boston Calling
June 15 – Copenhagen, Denmark @ Copenhell
June 17 – Landgraaf, Netherland @ Pinkpop
June 19 – Florence, Italy @ Florence Rocks
June 22 – Prague, Czech Republic, @ Prague Rocks
June 24 – Hockenheim, Germany @ Download
June 26 – Clisson, France @ Hellfest
June 29 – Frauenfeld, Switzerland @ Frauenfeld Rocks
July 1 – Werchter, Belgium @ Rock Werchter
July 3 – Bilbao, Spain @ Rock Day
July 6 – Madrid, Spain @ Mad Cool
July 8 – Lisbon, Portugal @ NOS Alive
July 28-31 – Chicago, Ill. @ Lollapalooza
Aug. 11 – Buffalo, N.Y. @ Highmark Stadium
Aug. 14 – Pittsburgh, Pa. @ PNC Park
Where 20 Rock + Metal Band Names Come From
Solving the mysteries behind the monikers.