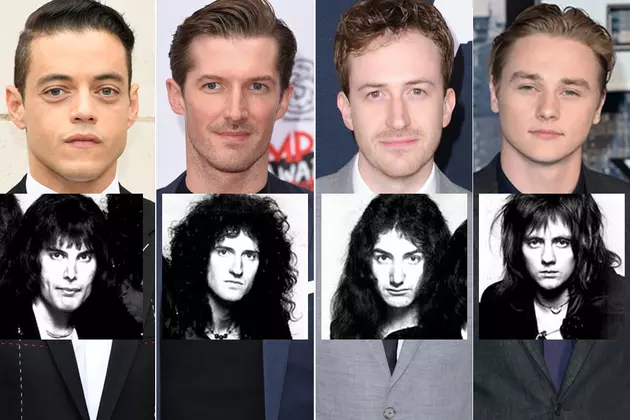 Meet the Actors Who Will Portray Queen in the Upcoming Freddie Mercury Biopic
Pascal Le Segretain / Jeff Spicer / Joshua Blanchard / Jeff Spicer, Getty Images / Inset Queen photos - EMI
The four actors who will be portraying the members of Queen in the upcoming Bryan Singer-directed Freddie Mercury biopic Bohemian Rhapsody have been revealed.
It had previously been announced that Mr. Robot's Rami Malek would be playing Mercury in the movie, which the band's official site says is set to begin filming "very, very soon."
The casting of the rest of the band has now been confirmed. Gwilym Lee from The Tourist will be portraying guitarist Brian May, Ben Hardy (recently seen as Angel in X-Men: Apocalypse) will be playing drummer Roger Taylor and Social Network star Joe Mazello will be playing bassist John Deacon.
Back in 2010, Borat's Sacha Baron Cohen was slated to play Mercury in the film; he left the project in 2013, allegedly because the band wanted Mercury's 1992 death to take place in the middle of the film. "I said, 'Listen, not one person is going to see a movie where the lead character dies from AIDS and then you see the band carry on.'" May, however, has publicly disputed Cohen's version of events. "Sacha became an arse," he told the Daily Mail. "We had some nice times with Sacha kicking around ideas, but he went off and told untruths about what happened."
May and Taylor, who recently completed a well-received North American tour in celebration of the 40th anniversary of their News of the World album, said they were thrilled with the actor now playing Mercury. "Rami has great presence, and he's utterly dedicated to the project," according to a post on their website. "He's completely living and breathing Freddie already, which is wonderful."
Queen Albums Ranked Worst to Best