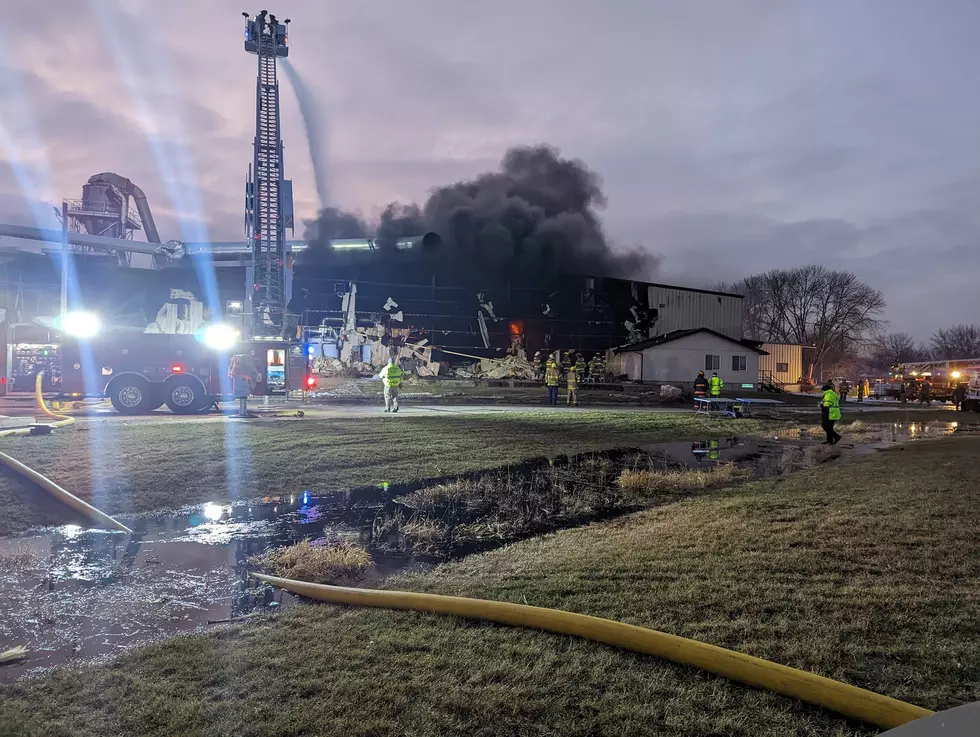 Marengo Plant Didn't Have Working Sprinklers Or Fire Alarms
Facebook via Oxford Fire Department
The sprinkler system, smoke detectors, and fire hydrants at a Marengo recycling facility had either been disabled or were not in working order at the time of an explosion and fire last week that injured at least 15 people, according to the Cedar Rapids Gazette. Law enforcement officials as well as the State Fire Marshall's Office are interviewing people who worked at the C-6 Zero plant to learn what sparked the blaze that took nearly 200 firefighters to put out.
Fire officials have lots of questions, including why weren't the sprinklers in the building working. Marengo Police Chief Ben Gray told the Gazette that there were two fire hydrants on site that were not functioning, and that "there was no activation of indoor fire suppression system."  Iowa state code requires all 'life safety equipment' including alarm and sprinkler systems to be operating at all times. The Gazette reports that failure to do this can lead to criminal charges.
The Gazette reports that officials are also unsure about what kind of chemicals were being stored at the plant. Fire officials say that the blaze started in a large tank of solvent used to dissolve old shingles. However, officials weren't sure exactly what the solvent was and just how much of it was inside the plant. The Iowa Department of Natural Resources tried to get more information on the C-6 Zero plant after a smaller fire occurred there on October 25th. DNR officials also visited the site in November, trying to find out more about chemicals stored on site.
Iowa's 25 Most Violent Cities According to the FBI
Lock Up! These are the Top 10 Most Stolen Cars In Iowa
Iowans have a type. We really like trucks. Turns out, so do car thieves!