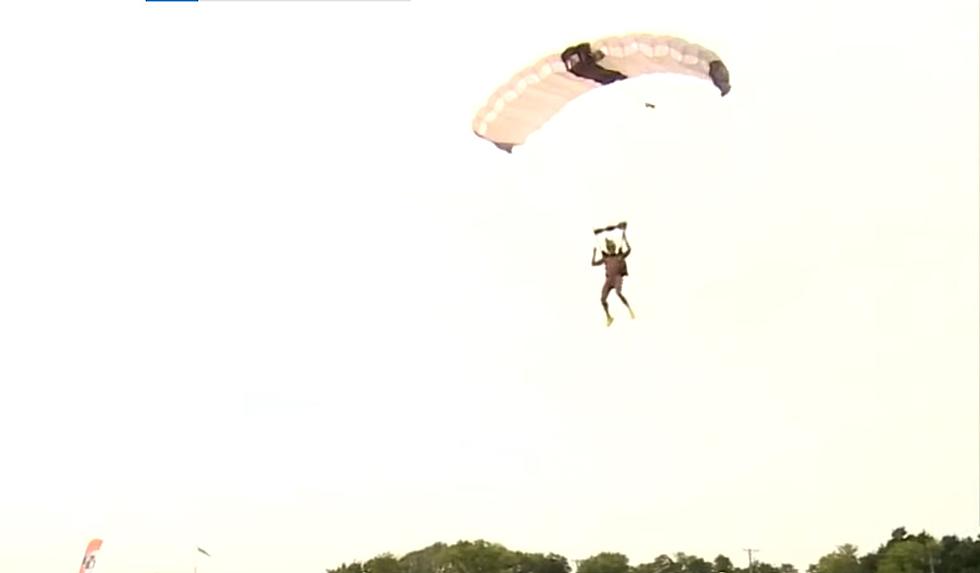 Man Sets New Guinness World Record Skydiving Naked 60 Times in 24 Hours
CBS Miami via YouTube
A Nebraska man set a new Guinness World Record by completing 60 skydiving jumps in 24 hours while wearing nothing but his safety equipment.
Rian Kanouff said he called up Guinness World Records and asked them about setting the record for Most Naked Skydiving Jumps in 24 hours, and they told him he'd create a whole new category so long as he did at least 25 jumps in the time frame.
Kanouff said it's a tradition for skydivers to perform their 100th jump in the nude, which was how he came up with the idea to set the naked skydiving world record as a mental health fundraiser after the recent death of a close friend.
"My friend that we lost to mental health issues was about that close to his 100th jump," he told KOLN-TV. "Close enough that he talked about it all the time, and he didn't get to make it. So I am out here for him and a lot of other people that we lost."
After completing 60 successful nude jumps over Weeping Water, Nebraska. His attempt also raised some money for the Movember Foundation.
The Movember Foundation is dedicated to lowering the premature death rate of males by 25% by 2030.
Their main areas of focus are on:
Mental Health and Suicide Prevention
Prostate Cancer
Testicular Cancer
They're the ones who took the whole "No Shave November" thing to the next level, and made it about awareness.
Read more at UPI 
LOOK: 30 fascinating facts about sleep in the animal kingdom