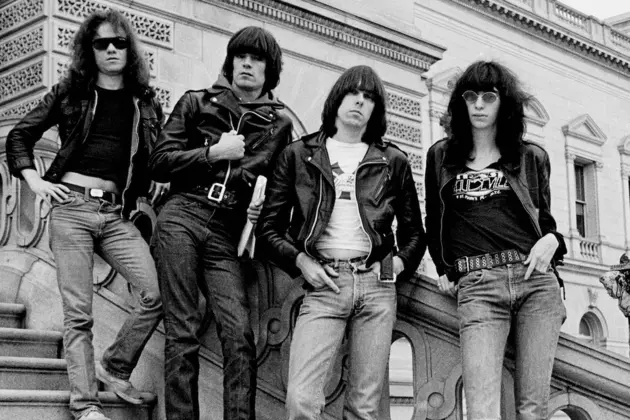 Listen to the Ramones' Unreleased Demo of 'Swallow My Pride': Exclusive Premiere
Danny Fields, Rhino Records
The Ramones have unveiled a previously unreleased demo version of "Swallow My Pride" ahead of their upcoming deluxe 40th anniversary reissue of 1977's Leave Home. It's one of 15 rough tracks the band recorded at Sundragon studios in the fall of 1976, and the finished take later became the album's lone Top 40 hit in the U.K.
The songs are part of a treasure trove of previously unheard recordings collected for an expanded three-CD/one-LP set from Rhino. Also included are two different mixes of Leave Home: a remastered version of the original release and a new mix specially created from vintage multi-track tapes by original engineer and mixer Ed Stasium.
"Generally, the consensus was [the original] maybe sounded too clean," Stasium writes in the liner notes. "The guitars panned completely left-right detracted from the band's foreboding presence, and the reverb effects especially were a little excessive."
The deluxe version of Leave Home, which is available for pre-order now, will be produced in a limited and numbered edition of 15,000 copies. It comes complete with a hardcover book featuring memories by Stassium and the band's former manager Danny Fields.
Due on July 14, the reissue is rounded out by a newly unearthed show from CBGB recorded in 1977. The concert took place a few months after the arrival of Leave Home, and includes performances of album tracks like "Suzy Is a Headbanger," "Oh Oh I Love Her So" and "Babysitter" – the latter of which was performed live only a handful of times – along with expected classics like "Blitzkrieg Bop" and "Now I Wanna Sniff Some Glue."
The remastered original version of Leave Home will also be available as a single disc; there will be digital download and streaming options as well.