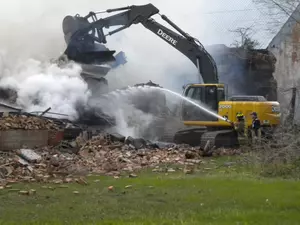 Large Oelwein Fire Out, Looking For a Cause
Photo by Roger King, Townsquare Media
Several area fire departments are dowsing what is left of a very large fire on the southwest side of Oelwein.
Fire crews were called out early today (Tuesday, May 2, 2017), to a building near the old railroad yards. Flames were shooting high up in the air earlier, before 5 area departments started fighting the blaze.
The fire was located in a storage building on the property, which was full of flammable materials, including wood and plywood.
Construction machinery has been brought in to knock down the rest of the structure, and get water to a few areas that are still on fire.
No injuries were reported.
Oelwein Fire Chief Wallace Rundle says that they will be investigating the cause of this morning's fire.