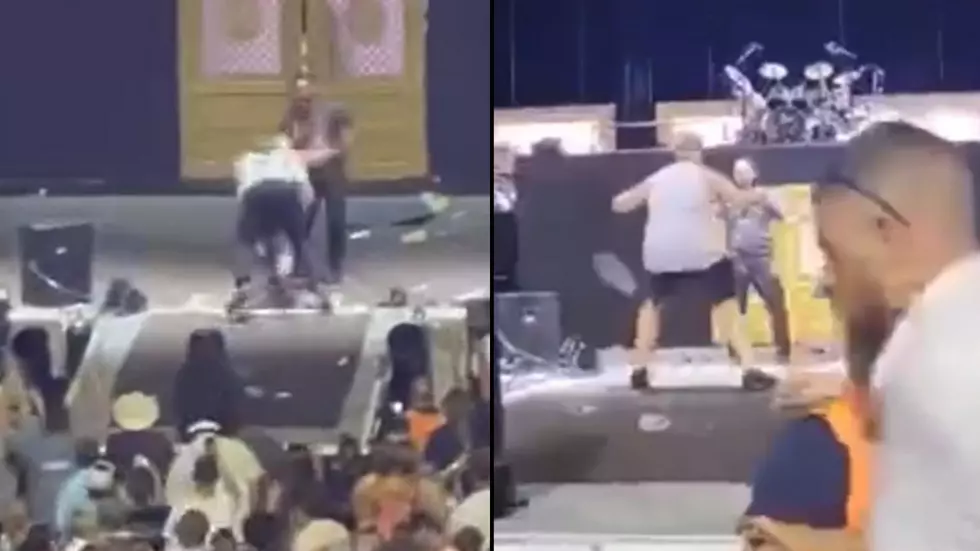 Kid Rock Show Cancelled, Audience Lashed Out, Fan Tackled On Stage
Patriot Takes via Twitter
Kid Rock had a show canceled on Friday night due to "Severe Weather" and the audience, well, they didn't take that too well.
The Minot, North Dakota show was called off due to "high winds, lightning and severe weather in the area," the North Dakota State Fair shared to Twitter.
Opening act, Night Ranger, had already performed and carnival rides stayed open after the announcement.
According to TMZ, the announcement came that the show would not go on, and the audience who had been waiting for over an hour between acts began throwing beer cans at the stage after the cancelation was announced by fair officials.
One guy even climbed on the stage and got laid out by security pretty hard, while another one was handcuffed.
Kid Rock took to Twitter to share his disappointment that "we could not play for a sold-out crowd tonight in Minot, ND (because of high winds) - I know it sucks but none of us can control mother nature. Please be safe leaving and take care of each other."
10 Southern Sayings That Didn't Translate When I Moved to Iowa
Born and raised in the South, there are a few words and phrases probably forever ingrained into my vocabulary that didn't translate when I moved to the Quad Cities.