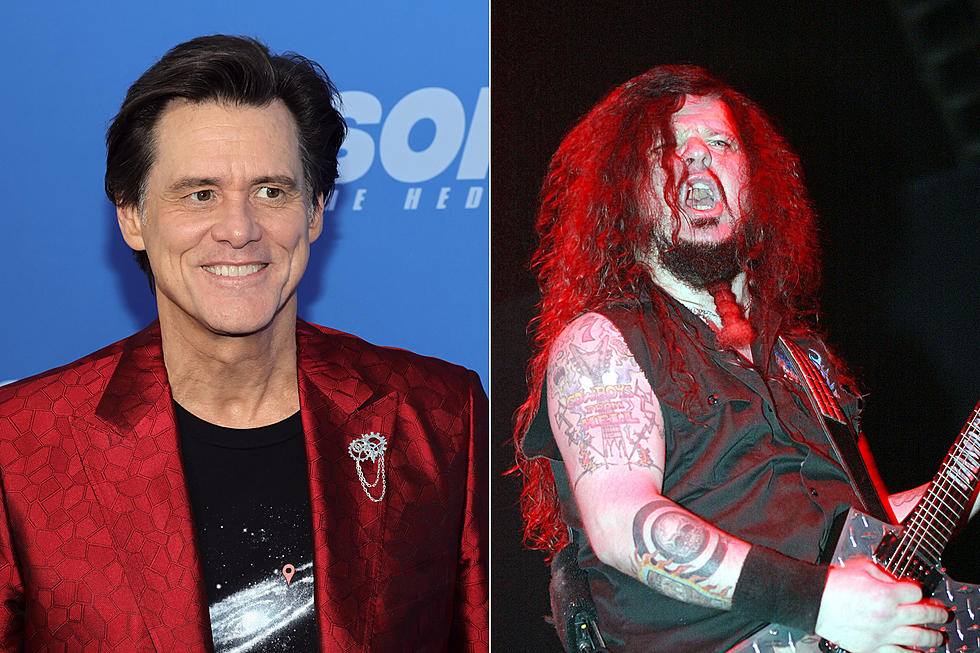 Jim Carrey Reveals He Met Pantera the Same Day He Heard Their Music for the First Time
Kevin Winter / Scott Gries, Getty Images
When a list of celebrity metalheads comes up, actor Jim Carrey's name is usually somewhere in that list. Many fans will recall the Cannibal Corpse feature in his '90s film Ace Ventura and Carrey's latest movie, Sonic the Hedgehog 2, has some metal moments as well. One of those moments queued up a recollection from the actor of the first time he heard Pantera, which actually came shortly before meeting the band for the first time.
While doing an interview with Washington D.C. Fox 5's Kevin McCarthy (as seen below), Carrey and the interviewer were sharing music pleasantries when McCarthy brought up the Pantera drop in the film, leading Carrey to share his Pantera story.
"The first time I ever heard Pantera, I was driving down to San Diego to do a concert at a theater and to check into the hotel, and me and my manager Jim Miller at the time we put Pantera on and I had never heard anything like it. And it hit me on such a level of like extreme stimulation that I started laughing uncontrollably for the entire track," recalls Carrey. "I was just nervously laughing like, 'What is happening right now?'"
But the story doesn't end there. As Carrey revealed, "Then we went to check into the hotel and the guys behind us in the line to check into the hotel were Pantera ... We turned around and went, 'Are you kidding me? This is too weird, man.' That's my life."
Metal is definitely no passing fad for Carrey. Once upon appearing on The Arsenio Hall Show, the actor famously impersonated Napalm Death's Barney Greenway, sick gutturals and all.
Sonic the Hedgehog 2 is currently in theaters.
Jim Carrey Speaks With Washington D.C.'s Fox 5
25 Awesome Celebrity Metalheads