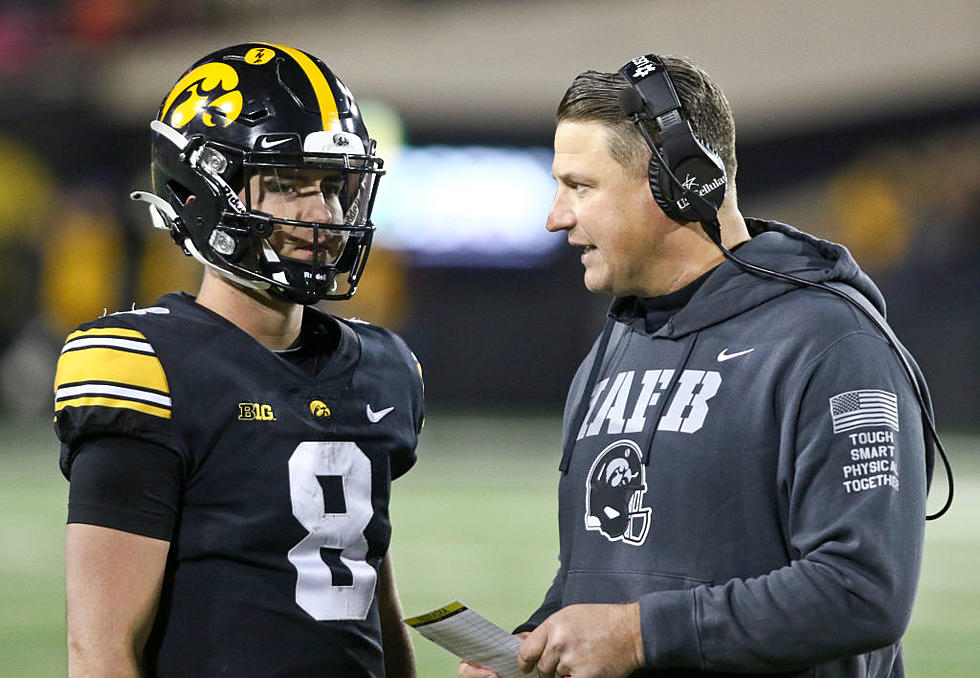 Hawkeye Fans…Is The Offense Already In Trouble Next Season?
Getty Images
Last season the Iowa Hawkeyes saw a team that dominated games defensively. We possibly watched one of the greatest defenses to ever play at the University of Iowa. The defense finished as the 2nd ranked defense in the entire country and gave up an average of 270 yards per game, according to NCAA.
The defense was a massive bright spot during the 2022 season and covered up a lot of the issues on the other side of the ball. Every college football fan knew where the problems were with the Hawkeyes last season. You did it, I did it, and anyone watching the Hawkeyes did it. We all judged the poor performance coming from the offense all season long. Yesterday (April-20), Offensive Coordinator Brian Ferentz didn't do much to help himself or to assure fans that things would be better in 2023.
The Iowa Hawkeyes' offense was ranked 130th in 2022. That would make them the second-worst offense in college football last year. In a press conference yesterday, Brian Ferentz said not much is going to change next season. According to KCRG, he said
We're gonna do the same things we do, we're gonna do them better. I'm gonna approach my job the same way I have approached it for the last 11 seasons. My job is to help us win football games. We have a tried-and-true method.
Opinion
Um..? Tried and true method? Where was that last year? I sure hope last season's tried and true method isn't what Hawkeye fans witness next season. Having the second-worst offense in the country wouldn't be under my definition of tried and true.
Now, there will be a new starting QB next season, which could go a long way in helping the offense to improve but why doesn't Brian Ferentz have a better answer for that question? He had to have known questions about last season's performance were coming and if his off-the-cuff answer was "We're going to run it back the same way..." He's not helping the situation out at all!
Why didn't he have something prepared like "I know last season was a tough year on offense and we're working our butts off every day to get it fixed. We need to play better on offense and we're going to."
How hard is that?! To tell fans you're going to do the exact same thing as last season, after having one of the worst seasons, on offense, you'll ever see in college football, is crazy to me. He also added in he's not changing any of the playcalling.
KCRG reports that in Ferentz's contract revision for the upcoming season, Iowa's offense will need to average 25 points per game and reach 7 wins for him to keep his job. When asked about changing any of the playcalling he said,
That's a fair question and the answer is no. If this is my last year as the offensive coordinator at Iowa football I'm at peace with that.
Yikes...
Iowa Born Sports Stars
What do each of these stellar athletes have in common? They all hail from the Hawkeye State.
Hilarious Iowa DOT Signs
Anyone else share a sense of humor with a state's Department of Transportation? Just me? Well, every Monday the Iowa Department of Transportation puts up a sometimes hilarious, sometimes straightforward message on their road signs across the state. This is called "message Monday" and Iowa DOT tries to entertain and educate drivers through these signs. Here are just a few of our favorites.