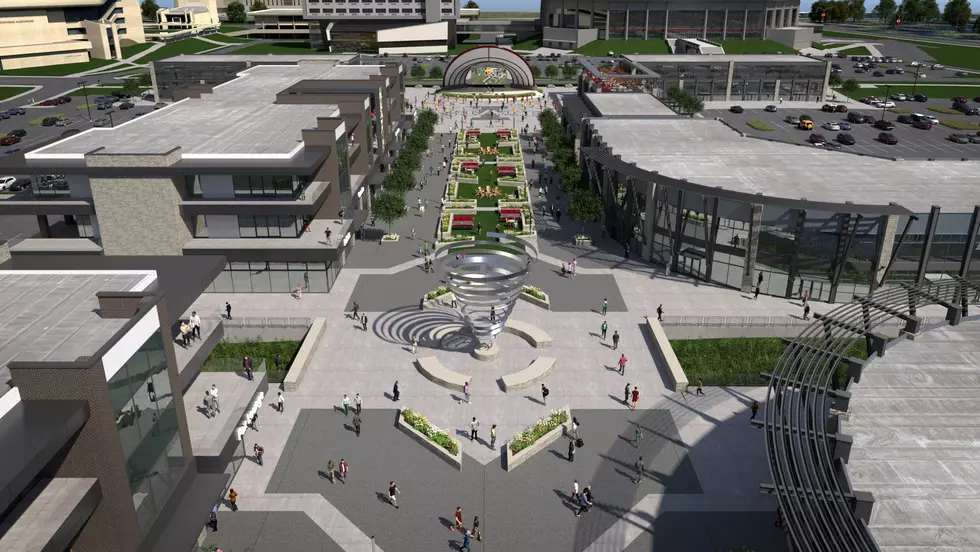 Iowa State University Reveals Plans For CyTown [IMAGES]
Iowa State University
Iowa State University has announced its proposed plan for CYTown. Described as "a community destination spot to be built between Jack Trice Stadium and Hilton Coliseum," the University says the "nation's first multi-use district on a college campus will lead to (a) reimagined Iowa State Center."
Stephens Auditorium was the first Iowa State Center building to go up. It was completed in 1969. Iowa State has gigantic plans for the area that sits between its two major sports venues.
The CYTown development is proposed in an area that has already seen huge investment with several projects already completed:
$10 million pedestrian bridge
$14 million in upgrades for the RV village and parking
$60 million Stark Performance Center
$30 million Albaugh Family Plaza and Concourse
$50 million Sukup Endzone Club
$10 Reiman Gardens Plaza
Iowa State wants CYTown to follow concepts like those at Titletown (near Lambeau Field in Green Bay, Wisconsin) and Kansas City's Power & Light District (near T-Mobile Center) in Kansas City, Missouri.
Iowa State Director of Athletics Jamie Pollard said, "Since we started this process, our goal has been to develop something unique to Ames while helping our community support, attract, and retain students, businesses, visitors and new residents, and we believe CYTown will accomplish all of that and more. A vibrant entertainment district that runs from campus through the Iowa State Center to the ISU Research Park will be a game-changer for our entire community."
According to Iowa State, 75% of the expected $200 million cost would "come from land monetization opportunities with the balance coming from the leasing of 20 CYTown Suites and fundraising. Funding for the parking lot improvements and infrastructure will come from university and athletics funds, which will be repaid, over time, by project revenues. The parking lot improvements were necessary, regardless of the CYTown development, for the safety of visitors, faculty, staff and students who park there on a daily basis."
The Iowa Board of Regents approved Iowa State's request to start planning for parking lot improvements between the Iowa State Center and Jack Trice Stadium in June. That will include new paving and lighting systems, and more. That work would be completed prior to the start of the 2025 football season.
Iowa State will seek final approval from the Iowa Board of Regents this fall. If approved, work would start in January of 2023.
*Now, let's take a look at the vision of CYTown:
CYTown 1st Floor Lobby:
CYTown Stage and Artwork:
CYTown Looking North:
CYTown North Closeup:
CYTown From 4th Street:
CYTown Interior Suite Balcony
CYTown Suite Interior
CYTown Restaurant
CYTown Full Layout
CYTown Stage at Night Looking South
The ABCs of Iowa
I know Iowa may not be the most popular state to visit, but we still have plenty to offer! Using countless article, websites, lists, and maps, we put together a list of some of Iowa's best and biggest events, venues, and attractions using every letter of the alphabet (which wasn't easy)! Unfortunately, we couldn't include EVERY awesome place in the state (there aren't enough letters!), but here are our Iowa ABCs:
20 Awesome Iowa Shirts You Can Order Online
Show off your Iowa pride with one of these cool t-shirts that you can find online!