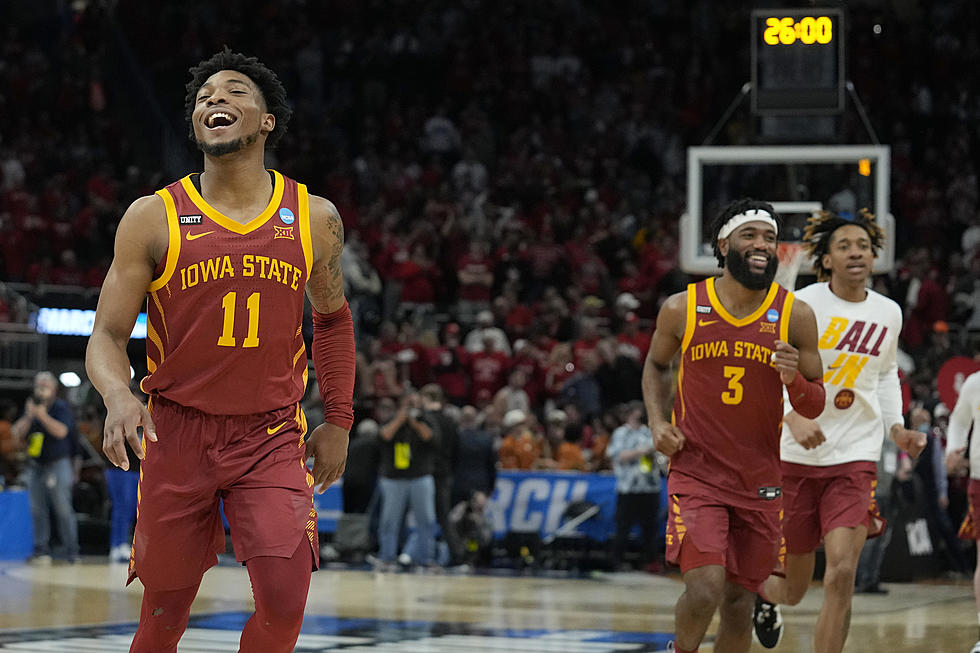 Iowa State March Madness Hero Tyrese Hunter Enters Transfer Portal
Getty Images
In 2020-2021, Iowa State men's basketball was the laughing stock of the Big 12 Conference.
The Cyclones went 2-22 overall and 0-18 in conference play.
After an earth-shattering offseason that brought new head coach T.J. Oztelberger to Ames along with transfer Izaiah Brockington from Penn State and a commitment from four-star point guard Tyrese Hunter, the outlook on 2021-2022 was much brighter.
Almost no one could have guessed this season's campaign would have been as good as it was.
The Cyclones went undefeated in their non-conference schedule to start the year, including wins over then-No. 25 Xavier, No. 9 Memphis, and eventual Big Ten Champion, Iowa. Sure, they went 7-11 in conference play, but going from zero wins to seven is still pretty damn impressive.
Then, they went on a bit of a tear in the NCAA Tournament as an 11-seed, defeating sixth-seeded LSU and third-seeded Wisconsin before eventually falling to tenth-seeded Miami (FL) in the Sweet Sixteen.
The Big 12 Newcomer of the Year and Freshman of the Year, Tyrese Hunter was a huge part of that run (he went 7-11 from three against LSU for 23 points) and their success throughout the season.
The 6'0, 178-pound guard averaged 11 points, 4.9 assists, and 3.5 rebounds last year and broke the single-season program record for assists (172) and steals (71) by a freshman.
And after one of the best first-year campaigns in the country and in program history, Hunter has decided to enter the transfer portal.
Hunter did not give any specific reason as to his decision to transfer, but Randy Peterson of the Des Moines Register said the choice is "presumably for better name, image, and likeness financial opportunities."
The Cyclones will have four scholarships available this offseason, that they will likely use to bring in talent via the transfer portal. ISU has already landed Temple transfer guard Jeremiah Williams and VCU transfer forward Hason Ward.
We spoke with Sam Cohn of the Philadelphia Inquirer and OwlScoop.com about the addition of Williams earlier this month on Cornstalks and Sports Talk (which you should check out on Apple Podcasts, Spotify, or live on Saturday mornings at 9 on AM950 or KOEL.com).
According to CycloneFanatic.com, "The program will host Ohio transfer forward Ben Vander Plas for a visit later this week and Wright State transfer forward Grant Basile later this month."
Hunter was the fourth ISU player to enter the portal this offseason, joining Tre Jackson, Jaden Walker, and Tristan Enaruna.
Iowa, UNI, and Iowa State Football Players Headed to NFL Combine
The state of Iowa is absolutely loaded with next-level talent: here are some of the best of the best that will be representing our state in the NFL Combine.
Pella Victorian Villa
This amazing home, built in 1871, is listed on the National Register of Historic Places. It has 5 bedrooms, 7 baths (5 full), more than 5,000 square feet, and sits on 1.51 acres. The asking price was reduced to $850,000 on December 31, 2021. It has since been sold. Let's take a look inside.