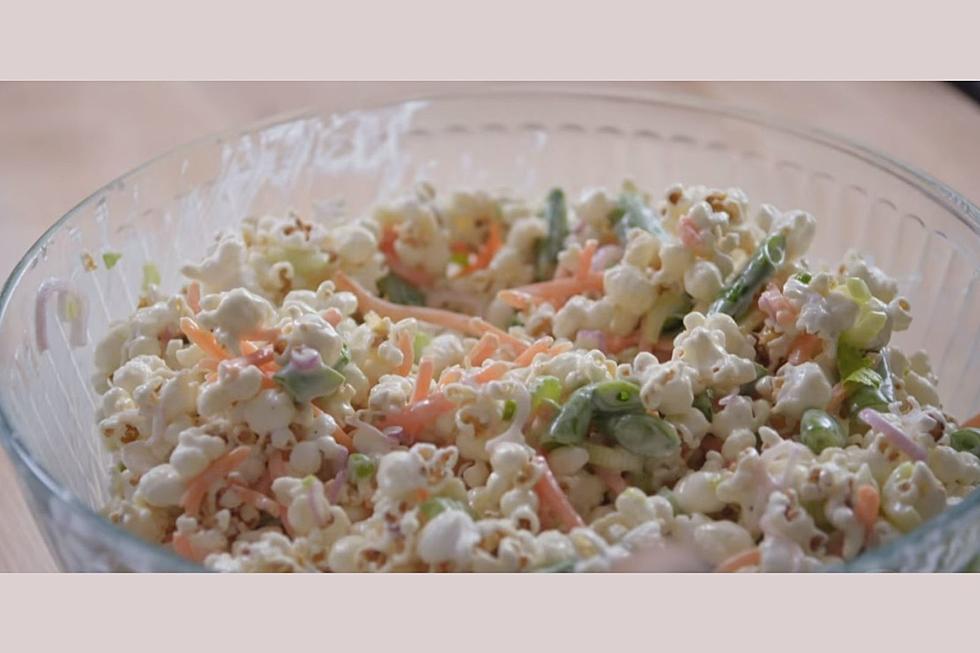 Have You Ever Heard of POPCORN SALAD?
Food Network via Facebook
The Food Network claims that the Popcorn Salad Recipe hails from the Midwest, but I've never heard of this concoction. In my opinion, popcorn should be made in a popper (not a microwave) and ONLY coated with real butter and parmesan cheese. That's just my delicious opinion.
According to the Food Network, 'Popcorn Salad' consists of:
1/3 cup popcorn kernels
Vegetable oil, as needed for popping
White Cheddar popcorn seasoning, for the popcorn
1/2 cup mayonnaise
1/4 cup sour cream
2 tablespoons cider vinegar
1 tablespoon sugar
2 teaspoons Dijon mustard
1 shallot, thinly sliced
Kosher salt and freshly ground black pepper
2 cups sugar snap peas, strings removed, cut crosswise into thirds
1 cup shredded carrot
1 cup chopped celery plus 1/2 cup tender inner celery leaves
1 bunch watercress, trimmed and torn into bite-size pieces
Have you lost your appetite yet?
All of these ingredients are whisked together in a bowl for your enjoyment. Seems a bit soggy to me. Moist popcorn doesn't really excite my pallet.
If this truly is a Midwest-based, uh dessert (?), where is the bacon? Where is the ranch?
FYI: It does NOT have stellar reviews. Food Network reviewers have only given it 3 stars out of 5.
One reviewer wrote, in all CAPS:
HOW DARE YOU POST THIS GARBAGE. THIS IS AN ABOMINATION. THIS IS JUST WET POPCORN WITH MAYO WHO ARE YOU TRYING TO FOOL WITH THIS 'SALAD'. MA'AM, THIS IS LITERALLY SOGGY MUSHY POPCORN WITH LEAVES ON TOP.
However, not everyone hated this recipe;
Made it as a joke... jokes on me, it's delicious.  Made a few substitutions with panty items I had on hand.
"Panty items?" I think he/she meant "pantry," but I can't speak for her/him.
Every Iowa Restaurant Featured on Diners, Drive-Ins and Dives
10 Iowa Breakfasts And What They Say About You