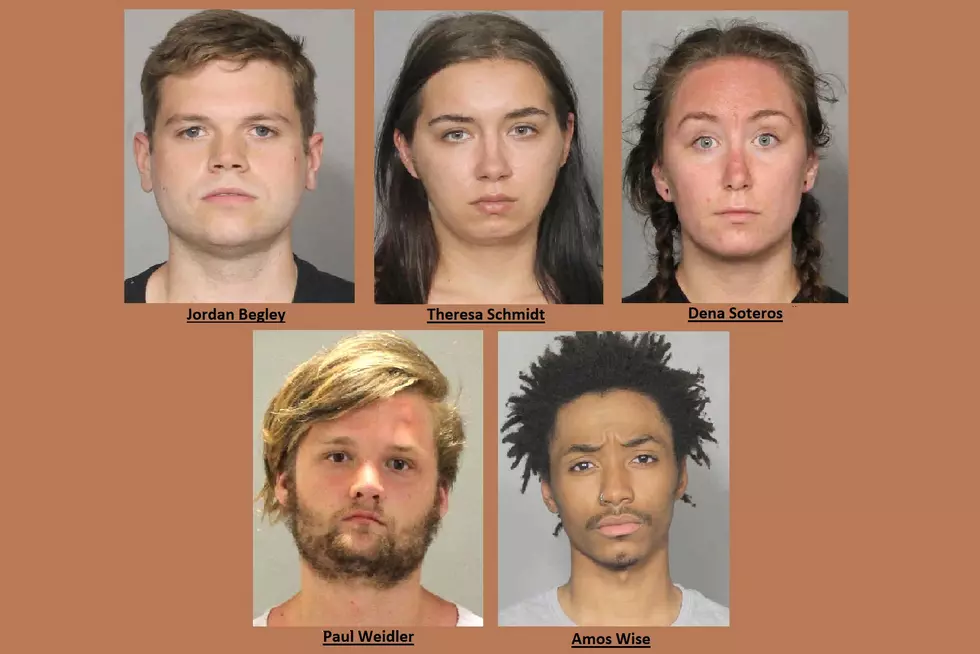 Eight Facing Charges Linked To Recent Waterloo Disturbances
Courtesy: Waterloo Police Dept.
Waterloo police have arrested a total of eight people on various charges following two early morning incidents of violence that followed late-night protest rallies in the city.
Three men and two women were taken into custody on rioting charges Wednesday morning. Those arrested were identified by police as: 18-year-old Jordan Weidler (also charged with failure to disperse, assault on officers, and harrassment of a public official); 20-year-old Amos Wise (also charged with inference with officials); 21-year-old Jordan Begley (also charged with failure to disperse); 21-year-old Theresa Schmidt (also charged with interference and failure to disperse) and 25-year-old Dena Soteros (also charged with failure to disperse).
According to police, the five people arrested were part of a fringe group that began to gather at Lincoln Park Tuesday night, about 30 minutes after the start of an hour-long peaceful rally held to protest the death of George Floyd in Minneapolis.
Police said the fringe group began marching onto city streets around 10:30 PM, and officers provided traffic control for the safety of those protesting. Multiple videos posted online show the persons involved in the march temporarily blocked traffic at the U.S. Highway 218/U.S Highway 63 interchange.
According to police, several people were hanging from the doors and windows of a vehicle while facing the wrong direction on the highway. Someone allegedly threw a rock from the elevated bridge that hit and damaged an occupied police vehicle, which was responding to the area for traffic control. Police said, at that point, they were unable to assure the protection of those blocking the highway from oncoming traffic, so command level officers ordered the crowd to disperse from the overpass and launched tear gas toward the group.
Authorities said several members of the same group went to Washington Park after leaving the overpass. According to police, the protestors were ordered to disperse again several times. When the group refused, officers deployed tear gas and used a divisionary device as a bright light and loud sound to encourage dispersion.
Weidler, Wise, Begley, Schmidt and Soteros were all arrested during officers' attempts to disperse the crowd Wednesday morning. Three people – two adults and a juvenile – were taken into custody earlier and charged in connection with a similar disturbance Tuesday morning.
Enter your number to get our free mobile app