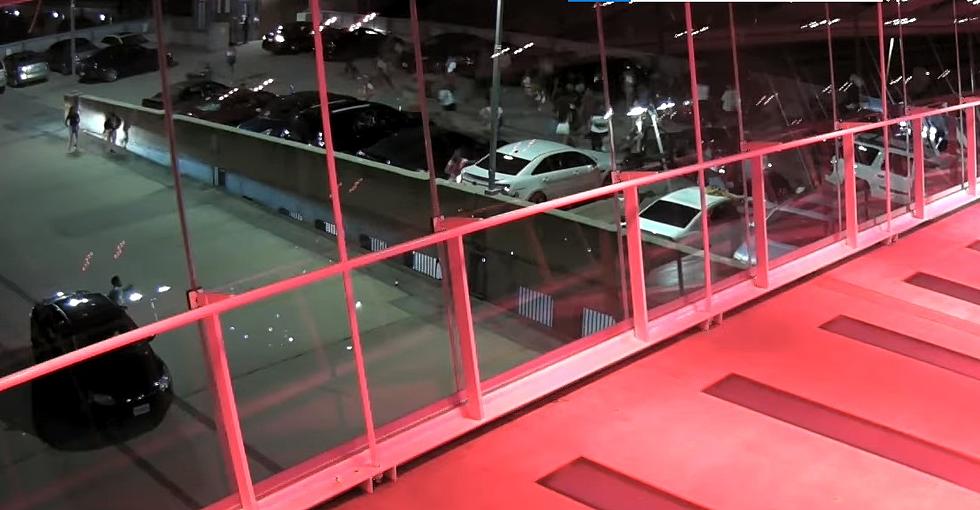 Davenport PD Releases Security Footage From Weekend Redstone Ramp Shooting
Davenport Police Department via Facebook
Following a press conference yesterday, the Davenport Police Department has released security camera footage of the Sunday morning shooting that left broken windows in the Skybridge and Figge Art Museum.
Davenport Police Chief Paul Sikorski said in the press conference that nearly 80 shots were fired on top of the Redstone Ramp at Brady and River Drive.
The footage was shown at the press conference as Chief Sikorski used a laser pointer to explain what they know happened.
He pointed out that there was some sort of disturbance near one of the vehicles, which looks to have become a scuffle of some kind.
After a few seconds, you can see when the first shots rang out, because the crowd disperses quickly, ducking in cover.
The Chief pointed out a subject in a red shirt that can be seen walking across the ramp and shooting, the muzzle flash visible from the camera.
As the shooting continues, what Chief Sikorski described as more than 25 vehicles sped off of the ramp, with many people running on foot down the stair well and down the ramp.
"For too long we have stood up here and talked to residents about the violence that is occurring in our community. But today, we want to the community to see for themselves the level of violence that people are willing to inflict within our community," the department's Facebook post reads. "I want our community to see what our Davenport Police Officers have to deal with each and every day. This level of violence is completely unacceptable. We will continue to work with our State and Federal partners to bring necessary resources to bare, but our community must take an active role in preventing violence like this before it occurs in our community again."
If you know anyone who was there, hear anyone talking about being there, or see Facebook posts regarding the incident, to call the Davenport Police Department at 563-326-7979.
LOOK: The most famous actress born the same year as you
Many of the actresses in this story not only made a name for themselves through their collection of iconic performances, but also through the selfless, philanthropic nature with which many of them approached their stardom. In an age of flipping the script on societal norms, many of these actresses are using their voices and platforms to be advocates for those who are otherwise unheard.