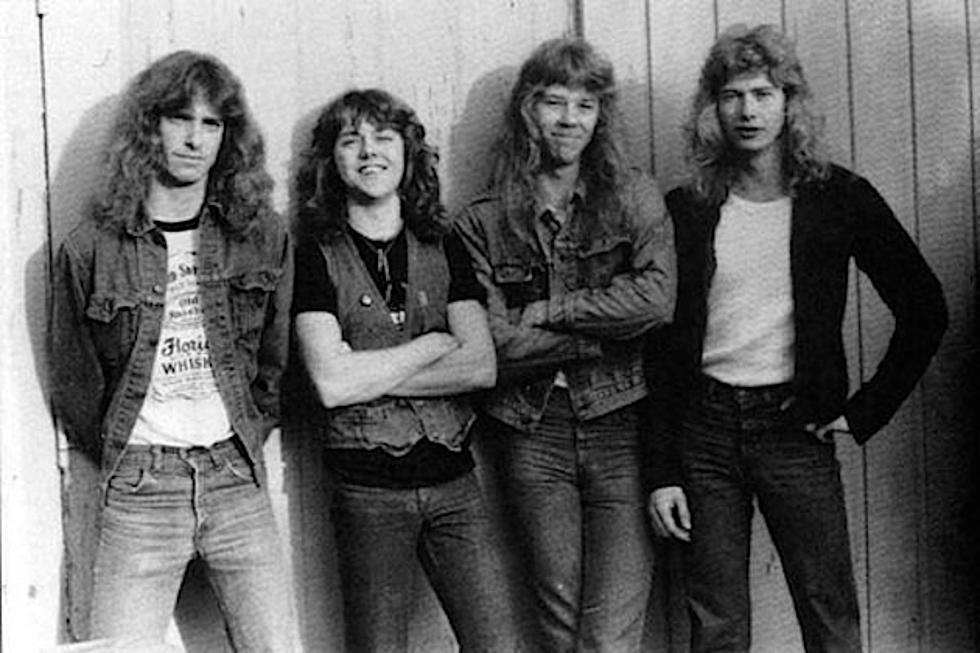 39 Years Ago: Dave Mustaine Fired From Metallica
Metallica.com
How do you get kicked out of a band for being a wild drunk when that very same band would give itself the nickname Alcoholica?
For Metallica's original lead guitarist, Dave Mustaine, the problem wasn't the quantity that he was consuming, it was how the booze affected him when he was hammered. His bandmates — James Hetfield, Lars Ulrich and Cliff Burton — were loud and stupid when they drank, but they were mischievous, but not malicious. Mustaine, on the other hand, could become volatile and unhinged after he'd had a few.
"When you're around a lot of people that like to drink and get silly, they just want to have fun," Mustaine explains. "I would drink and have fun until someone would refute something I had said. And then that was war, baby. I'd be aggressive and confrontational because I was a violent drunk. I lost all inhibitions when I was drinking, and that didn't go over to well in the end."
The end came on April 11, 1983, and for Mustaine it came without warning. Metallica had already hired Kirk Hammett as their new lead guitarist. At around 9AM that morning, Hetfield, Ulrich and Burton woke up Mustaine, who was suffering from an ugly hangover,  and told him he was out of the band.
"The thing that really upset me was that they never gave me a warning and I never got a second chance," Mustaine says. "It was just, 'Hey man. You're out. See ya later."
When Mustaine asked what time his flight back to California was, he was told he wasn't flying. He was taking a four-day bus ride. Worse still, the bus was scheduled to depart from New York's Port Authority Bus Terminal one hour after he was fired. Perplexed, Mustaine scrambled to pack a travel bag and then Hetfield drove him from the Music Building in Queens to 42nd  Street and Eighth Avenue in Manhattan.
At the time, Mustaine was understandably furious. Not only had he been kicked out of a band he co-founded, but he was being sent away with a mere bus ticket while his former bandmates went on to record their debut album, Kill 'Em All — for which he wrote some of the best material — with another guitarist.
Metallica, No Life 'Til Leather Demo
During the seemingly endless bus ride, he fumed for a while, and then decided to write some new lyrics. Since he didn't have any paper, he wrote on the back of a handbill from Senator Alan Cranston. A message on the front of the card, which referred to the stockpiling of nuclear weapons read, "The arsenal of megadeath can't be rid." After considerable thought, Mustaine decided the term megadeath would make a cool name for a metal band, especially if it was misspelled as Megadeth.
With decades of hindsight, Mustaine still feels he should have been warned before he was booted, but he has accepted his role in the events that transpired.
"I had been physically reckless, and there had been a lot of pushing and shoving on my part with everybody in the band," he says. "I was very unpredictable and I embarrassed everyone around me. I still look back on those times as mostly fun, but usually the time when I would start to get to the point where violence would occur was when I was heading towards a blackout. That continued long after I left Metallica and it was the main reason why, why in 1988, I decided I'm gonna stop. It just took a long fuckin' time to get the train slowed down."
Loudwire contributor Jon Wiederhorn is the author of Raising Hell: Backstage Tales From the Lives of Metal Legends, co-author of Louder Than Hell: The Definitive Oral History of Metal, as well as the co-author of Scott Ian's autobiography, I'm the Man: The Story of That Guy From Anthrax, and Al Jourgensen's autobiography, Ministry: The Lost Gospels According to Al Jourgensen and the Agnostic Front book My Riot! Grit, Guts and Glory.
See Where Dave Mustaine + Kirk Hammett Rank Among the Top 66 Hard Rock + Metal Guitarists of All Time