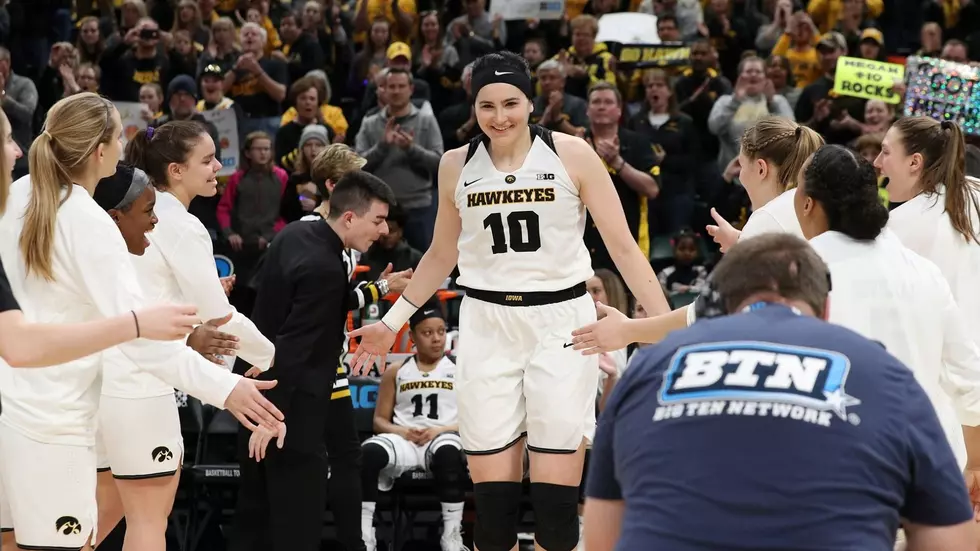 Iowa's Gustafson, Bluder Named Finalists For Nation's Top Award
Courtesy: Brian Ray - Hawkeye Sports.com
No women's basketball player from the Big Ten Conference has ever won the Naismith Trophy, the annual award given to the most outstanding in the country. Iowa's Megan Gustafson has a legitimate chance to become the first.
The Hawkeyes' senior was named one of four finalists for the award, the Atlanta Tipoff Club announced on Friday. The other players named as finalists were: Louisville's Asia Durr, Oregon's Sabrina Ionescu, and Notre Dame's Arike Ogunbowale.
Gustafson is Iowa's all-time scoring and rebounding leader, both men and women. She helped the Hawkeyes capture their first Big Ten Tournament title since 2001 on March 10, scoring 45 points and grabbing 10 rebounds in their 90-76 victory over top-seeded Maryland. The championship secured a No. 2 seed in the NCAA Tournament for Iowa (26-6), the program's highest since 1996.
A native of Port Wing, Wis., Gustafson ranks in the top four nationally in eight categories. She leads the county in field goal percentage (69.6), points per game (28.0), total points (897), and field goals made (369), ranks second in double-doubles (30) and defensive rebounds per game (10), third in total rebounds (424), and fourth in rebounds per game (13.3).
Gustafson is the only player in Iowa program history to win the Big Ten Conference's Player of the Year award twice. She is the ninth two-time recipient in league history.
Last week, Gustafson was named espnW's National Player of the Year in a unanimous vote. The 2019 Naismith Trophy for Women's Player of the Year will be presented on April 6, and the winner will be honored at her school on a later date.
Fans can help Gustafson win the Naismith Trophy by visiting naismithfanvote.com to cast their ballot. Fans can vote for their favorite finalist once each day through April 3. The fan vote will account for five percent of the overall vote.
While voting for their favorite player, fans can also cast ballots for their favorite coach. On Thursday, Iowa's Lisa Bluder was one of four finalists announced for the Naismith Women's Coach of the Year award by the Atlanta Tipoff Club. The other finalists named were: Wes Moore of N.C. State, Kim Mulkey of Baylor, and Vic Schaefer of Mississippi State.
If Bluder wins the Naismith Trophy, she would join C. Vivian Stringer as the only women's coaches from Iowa to claim the honor. Stringer, the current coach at Rutgers, won the trophy while guiding the Hawkeyes in 1993.