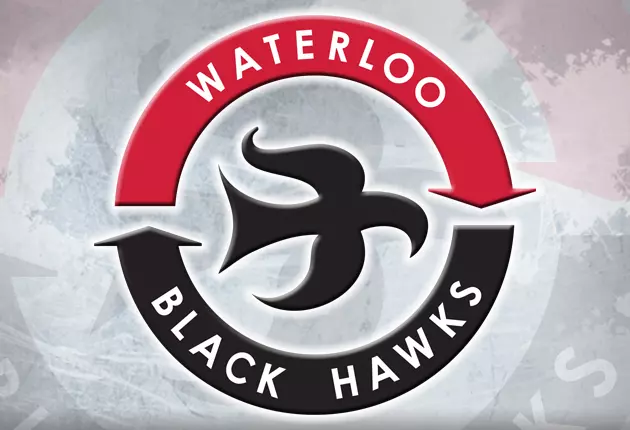 Black Hawks Wrap Up Three-Game Weekend Strong
Waterloo Black Hawks
The Waterloo Black Hawks closed out a three-game weekend with a strong finish in Des Moines. The Black Hawks sank the Buccaneers, 5-1.
Waterloo's penalty kill squad denied seven of eight Des Moines power plays, and then they broke the game open late.
Power play goals represented all of the scoring during the first period. At 4:28, Mario Ferraro's shot from the left point during a Buccaneer advantage dipped off a defender and eluded Peter Thome. However, a well-timed broken stick allowed the Hawks to level the count at 16:25. With two seconds left on a power play, Grant Gabriele's stick broke on a one-timer. With the puck arriving at a different speed than Jan Ruzicka expected, Jack Drury got the last touch, scoring from just outside the crease.
The power play units which had been sharp in the first stalled in the second. Waterloo killed off 1:51 of uninterrupted two-man advantage time with Shane Bowers, Mason Palmer, and Ethan Spaxman circling the wagons for an extended shift. In all, the Hawks turned away four Des Moines power plays in the second but were then unable to score on two of their own.
Bailey Conger broke the tie at 6:06 of the third, putting back the rebound of Kevin Charyszyn's initial chance with a backhander. Grant Gabriele added an insurance goal a little over four minutes later. Firing a shot from the right boards, it flew over Ruzicka's shoulder under the crossbar.
Drury's second of the game came at 11:59. Taking a handoff from Sam Craggs in the neutral zone, Drury cut through the left circle and dodged a defender before slipping in his chance. Yuki Miura poked in one more on the carom of Ethan Johnson's initial try at 17:11.
Thome finished with 31 saves for the win. Ruzicka stopped 29 shots in the loss.
The Hawks play their final game against an opponent from the state of Iowa on Saturday in Cedar Rapids. The game with the RoughRiders is also Waterloo's final regular season road game before finishing the schedule with three on home ice.
Game Recap Courtesy of Tim Harwood (Waterloo Black Hawks)