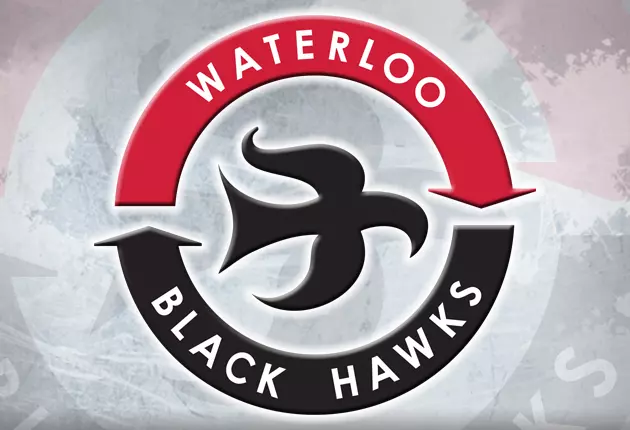 Black Hawks Heat Up on Home Ice
Waterloo Black Hawks
Two goals during each period lifted the Waterloo Black Hawks to a 6-2 win against the Omaha Lancers at Young Arena Friday.
Jackson Cates scored the first and last goal of the game, also contributing an assist during his three-point performance. The first-year forward sent the Hawks to their first lead at 9:13, capitalizing when Jake Ryczek's errant shot created an opportunity from close range. Just 90 seconds later, Josh DeLuca tied the score, sending a low chance from the left hash mark past Robbie Beydoun's glove.
The Hawks went to the lead again on a Garrett Wait wrister from the right circle at 16:16. Omaha's response was noted just over two minutes later on Emilio Pettersen's five-on-three power play goal.
Undaunted, Waterloo tallied the first of four unanswered goals late in the second period. Nick Swaney created the play behind the Omaha net at 16:58, feeding Shane Bowers, who snapped in a low shot to the glove side. The Hawks then made the most of their first power play at 18:44 on a blue line blast by Grant Gabriele.
Playing in his first game for the Hawks, Sam Craggs set up a pair of third period scores. Just 15 seconds out of intermission, he fished a puck off the end wall and set up Swaney with an open net. During the final minute of play Craggs engineered a similar opportunity for Cates, slipping a pass across the top of the crease during a power play.
Beydoun made 14 saves for the victory. Ryan Keane absorbed the loss despite 38 stops on 44 Waterloo chances.
The Hawks conclude their season-long five-game homestand Saturday with a Dupaco Cowbell Cup tilt against the Cedar Rapids RoughRiders. For tickets, call the Domino's Black Hawks Box Office at (319) 291-7680.