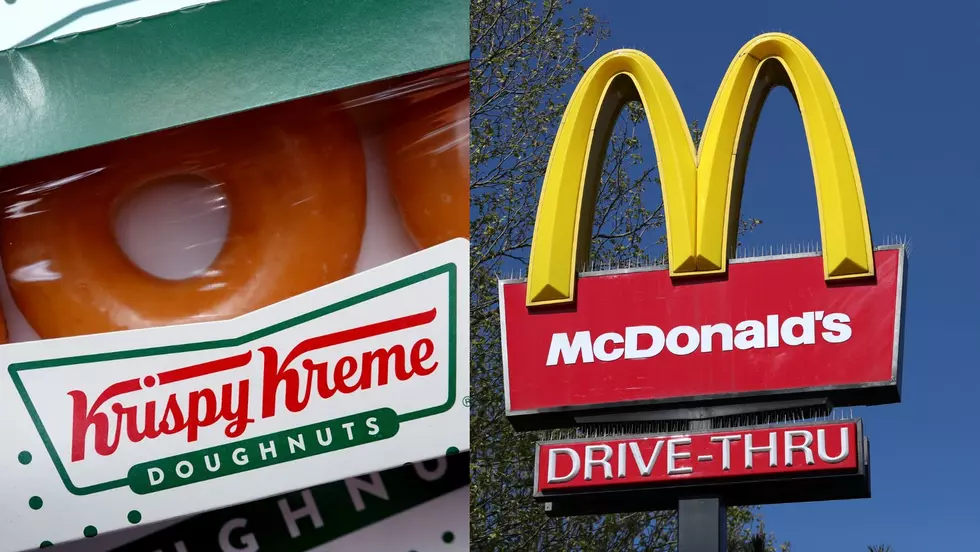 Could Two Fast Food Giants be Teaming up in Iowa?
Getty Images
If there are two fast food restaurants that are universally adored (or hated by health nuts) and regularly visited by the American and worldwide public, those two would be Krispy Kreme and McDonald's.
Though Krispy Kreme has just four locations in the state of Iowa (three of which are in the greater Des Moines area with one in Council Bluffs), and I didn't actually have a bite of the crisp, sugary goodness until I was in college, I understand the obsession.
However, when my parents were trying to raise a young, ridiculously picky Eliot, McDonald's was one of the few options that would make everyone happy on the car ride home from a shopping trip or visit to grandma and grandpa.
For the rest of you who have grown up in small-town Iowa and were picky eaters alike, I assume your childhood and eating habits were similar to mine.
For you donut and microwaved burger fans alike, you may just get the opportunity to enjoy them both... at the same time and place.
According to CNN, starting October 26, some specific Mickey D's locations will start selling Krispy Kreme donuts. I think I just felt my blood stop moving after solely reading that sentence.
The initial launch will take place at nine separate McDonald's locations in Louisville, Kentucky to test things out. Per a release that the two companies shared, the small start will help them "inform future menu decisions."
CNN continued, elaborating on how the partnership will work: "Krispy Kreme will deliver the donuts daily to the participating restaurants and customers can purchase them individually or in six packs. Available options include glazed, chocolate iced with sprinkles, and raspberry filled."
McDonald's added this in their own statement: "McDonald's is always looking for ways to give our fans more of what they crave, and we often conduct tests to inform future menu decisions. This small-scale test will help us understand how offering new bakery items like Krispy Kreme could impact operations in our restaurants."
Who knows? Maybe the pairing is booming for both businesses and this becomes a universal thing. Would you get your Krispy Kreme from a McDonald's if the move took place in Iowa?
The Best Coffee Shops in the Cedar Valley
Everybody loves a good brew to start their day -- here are the best stops you can make between Cedar Falls and Waterloo for your next sip!
Biggest Winners in the History of the Lottery in Iowa
These are the people who have cashed the biggest checks since the Iowa Lottery debuted in the summer of 1985.