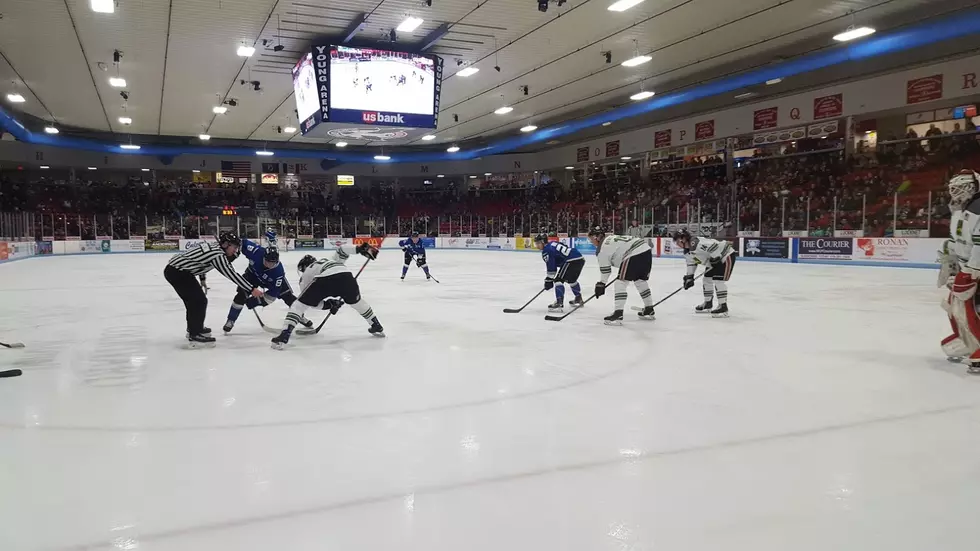 Black Hawks Take Two From Fargo Over The Weekend
Townsquare Media - Shawn McKenna
Waterloo's John Deere Weekend in Party Town was a huge success! The special John Deere jerseys were auctioned off after the game raising money for the "Cedar Valley Angels". Plus, the team extended their lead to 11 points in the USHL's Western Conference (28-9-2) with two victories over the Fargo Force.
SATURDAY NIGHT VS FARGO
The Black Hawks seized control in the second period of Saturday's game against the Force, using the middle 20 minutes to power themselves to a 5-2 victory at Young Arena.
The matchup was scoreless through one frame, but Ryan Drkulec changed that just 19 seconds after intermission. During a power play, Griffin Ness crossed the blue line and set up Drkulec's half slap shot one-timer, which beat Cole Brady from the left circle. It was the first of four goals scored in transition by Waterloo during the period. Waterloo also had scores from Ryder Rolston, Griffin Ness, Luke Bast, and Patrick Guzzo.
For the third time in five games, Waterloo went to overtime, and Friday at Young Arena, Ryder Rolston's goal was the difference in a 2-1 victory against Fargo.
The Force had the first two shots and better possession during the first three minutes of extra time, but the Hawks flipped momentum as play continued. With a minute left in the extra frame, Luke Bast's 50-foot pass sprang Joe Cassetti into the Fargo zone, two-on-one. Moving on right wing, Cassetti flipped the puck across the slot to Rolston, leaving Brennan Boynton with little chance to make a post-to-post save on Rolston's blast. Waterloo is now 7-2 in overtime or shootout decisions. Friday's result was the Hawks' 15th win by a one-goal margin this season.
TUESDAY NIGHT VS DUBUQUE
Waterloo returns to action after a short break, taking on the Dubuque Fighting Saints Tuesday night at Young Arena. All fans in attendances are invited to enjoy $2 hot dogs, nachos, and soft drinks during the game. It's also College night, with discounted tickets available for area college students. For tickets, call the box office at (319) 291-7680 or go to: waterlooblackhawks.com/tickets