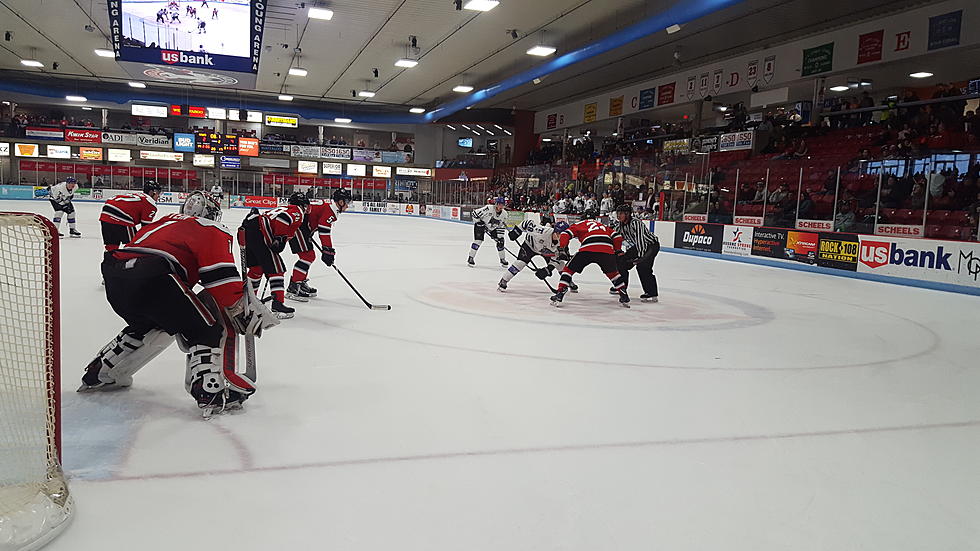 Black Hawks Home Opener Sat. Night at Young Arena
Townsquare Media-Shawn McKenna
Waterloo is "Home Sweet Home" in Partytown Saturday night with a ton of great promotions going on!
The Black Hawks complete a season-opening sequence of four straight games away from Young Arena on Friday at 7:05 p.m. at Cedar Rapids Ice Arena against the RoughRiders.  Last season, Waterloo went 4-2-1 versus their Dupaco Cowbell Cup rivals.  However, Cedar Rapids was 2-0-1 during the three tilts on their ice. 
Saturday night at 7:05, the Black Hawks host the Tri-City Storm.  Tri-City will be Waterloo's first repeat opponent of the season after Waterloo earned a 2-1 overtime victory on October 26th during the USHL Fall Classic.  The Storm were the only team to sweep a season series against Waterloo in 2018/19, winning all four meetings.
Quick on the Draw
Through three games, the Black Hawks have scored the first goal against each of their opponents.  The Cedar Rapids RoughRiders have the same distinction after their first four 2019/20 contests. Over the course of the first 28 USHL games this fall, the team scoring first has won 22 times and earned over 82 percent of the possible standings points.
Taking His Shots
Second-year Waterloo forward Xander Lamppa leads the Black Hawks with ten shots on goal after three games.  He also paces the Hawks with three points (one goal, two assists).  The Rochester, Minnesota, native has made the most of new opportunities to put pucks on goal. Last year, Lamppa totaled 89 shots in 58 games (1.53 per contest, compared with 3.33 on average this season), generating seven goals and 19 assists.
Home at Last
The Hawks get home for the first time this season on Saturday evening. Last year, Waterloo was 18-7-5 at Young Arena.  The last time the Black Hawks came up short of 15 home ice wins was in 2010/11, when they were limited to a 14-14-2 record in their own building.  However, Tri-City posted an exceptional 20-9-2 mark as a road team last winter, a significant factor in their Anderson Cup championship. The Storm won at Young Arena during both visits by scores of 2-1 and 6-3.
Home Opener Promotions
Fans can enjoy live music in the "Cold Zone" before the game, with the band, the "Favorites". And, fans can hang out in the "Cold Zone" and keep an eye on the Iowa vs. Penn St. football game on the big TV's and win prizes. Plus, make sure to grab a magnetic schedule as you come in and enjoy $2 Coors Light cans throughout the game. For tickets, stop by the box office, go to waterlooblackhawks.com/tickets or call 319-232-3444.