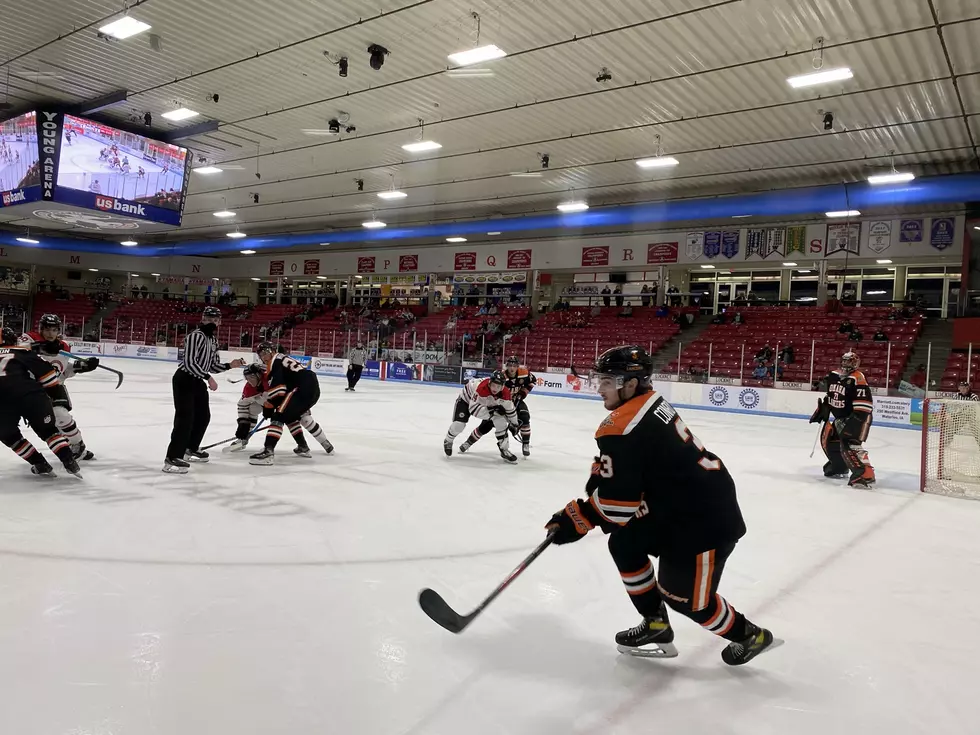 Black Hawks Fall In Overtime-Back In Party Town This Weekend
Townsquare Media - Shawn McKenna
Waterloo let one slip away, on a night where Ryan O'Hara had a breakout game, scoring a hat trick, but penalties just proved too costly as Omaha snuck away with a 4-3 overtime victory.
TUESDAY NIGHT VS. OMAHA
According to a team game re-cap, the Lancers scored the game-winning goal during their seventh power play of the night. In overtime, a loose puck came to Nolan Renwick in the left circle, and he lifted a shot inside the post beating the Black Hawks' goalie Charlie Glockner. O'Hara scored once in each period. Trailing 3-2, O'Hara redirected a Jonah Copre shot into the net. O"Hara also struck early in the game, for the game's first goal not quite five minutes into the opening period. Matt Argentina saw O'Hara coming up the slot and put a pass on target. O'Hara snapped the puck over the left shoulder of the league's leading goaltender, Jakub Dobes. And in the 2nd period, Max Sasson tried a shot that was batted down by an Omaha player and it came right to O'Hara as he stepped from behind the net beating Dobes.
Veteran Forward Joins The Team
Forward Alex Gaffney just had to switch locker rooms and hockey sweaters when he arrived at Young Arena on Tuesday. The veteran of more than 120 United States Hockey League games over three seasons joined Black Hawks following a trade, which includes several USHL draft picks. During the prior two seasons, the West Orange, New Jersey, native was a member of the Muskegon Lumberjacks. Gaffney's 60 career USHL points rank 2nd only to Wyatt Schingoethe (79) among players currently active on Waterloo's roster. Gaffney is committed to Harvard University.
NEXT UP
Tuesday's game was the first of seven straight at home for the Black Hawks. Waterloo returns to action Friday and Saturday versus the Sioux City Musketeers. The doors open at 6:05pm with the puck drop at 7:05pm on Friday. On Saturday, doors open at 5:05pm with the game starting at 6:05pm. Reminder, there is no early entry into the building. Single game seats (online only) and private group suites are on on sale now here. Also both nights, fans can enjoy 2-for-1 Coors Light Tallboys in "The Cold Zone" from the time doors open through the end of the first period.
Enter your number to get our free mobile app
LOOK: Top 12 Fun Outside Activities To Do In Iowa