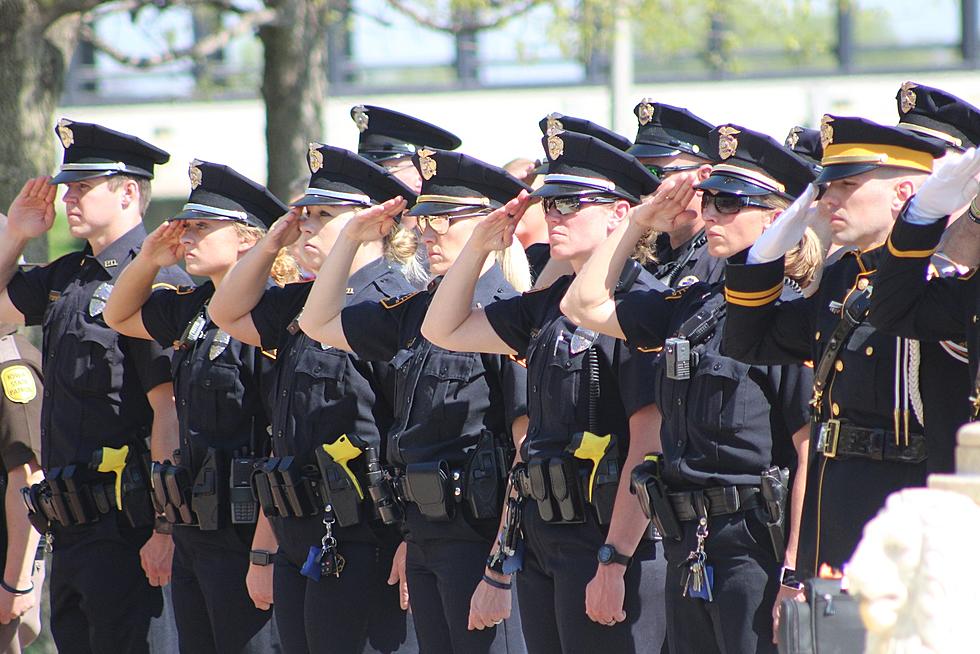 Black Hawk County Honoring Fallen Police Officers
Photo By: Elwin Huffman - Townsquare Media
This year marks the 40th anniversary of one of the darkest weeks in Iowa law enforcement history.
On July 12, 1981, Waterloo police officers Wayne Rice and Michael Hoing responded to a complaint of loud music at a home on Franklin Street just two blocks from city hall. A confrontation developed after they arrived. James Michael "T-Bone" Taylor took Rice's gun and killed both officers.
Taylor fled the home and eluded capture for several days. After a nearly week-long manhunt, he was caught in a bean field near La Porte City and eventually convicted of murdering the 27-year-old Rice and 28-year-old Hoing.
The search for Taylor also led to the death of a third local officer. Two days after Rice and Hoing were gunned down, Black Hawk County sheriff's deputy William Mullikin died in a traffic accident while responding to a reported sighting of Taylor.
In less than three days, three local officers died while protecting the community they served.
Rice, Hoing and Mullikin will be remembered Thursday, when officers from each of the county's 10 agencies gather at 11 AM outside Veterans Memorial Hall, 104 W. 5th Street, in downtown Waterloo for a ceremony to honor the 14 local men who have died in uniform since 1902. Each agency takes a turn hosting Black Hawk County's annual Peace Officer Memorial Ceremony, which is held in conjunction with National Peace Officer Memorial Week. The Black Hawk County Sheriff's Department is hosting this year's event.
A portion of the 2021 ceremony will be dedicated to remembering the dedicated service of Rice and Hoing. The Waterloo Police Department plans to present the Police Cross in their honor.
The group of local officers who gave their lives in the line of duty over the years includes eight policemen from Waterloo, one from Cedar Falls, a La Porte City officer, two Black Hawk County sheriff's deputies, and two Iowa State Patrol troopers.
In Memoriam: Black Hawk County's Fallen Police Officers
Officers from each of Black Hawk County's law enforcement agencies gather every year to remember their fallen comrades. The annual ceremony is held each May in conjunction with National Peace Officers Memorial Week. Since 1902, 14 local officers -- all men -- have died in the line of duty while trying to protect the public. The group includes eight police officers from Waterloo, one from Cedar Falls, one from La Porte City, two Black Hawk County sheriff's deputies, and two Iowa State Patrol troopers. They are gone, but not forgotten.
2019 Black Hawk County Peace Officer Memorial Service