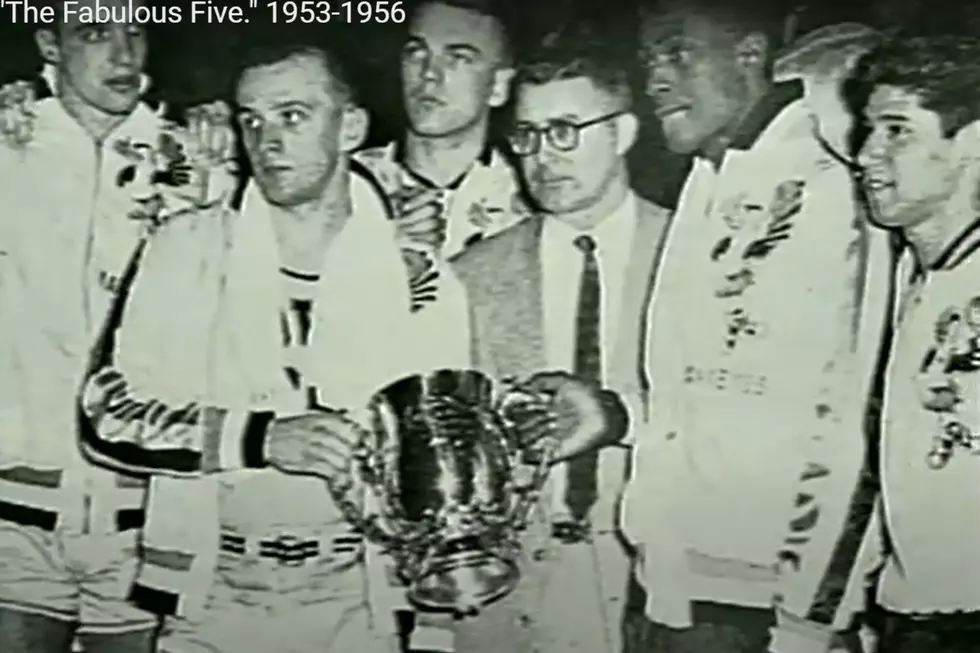 Bill Russell Ruined Iowa Hawkeyes First NCAA Championship Appearance
Greg Scheuerman via YouTube
In 1956, Bill Russell was the second overall pick in the draft by St Louis and was traded to a little NBA team you might've heard of before, the Boston Celtics. I'm sure back then the Celtics knew they were getting a fabulous player, but I truly doubt they knew they were acquiring one of the greatest players to ever play the game.
Russell played for the Boston Celtics for 13 years from 1956-1969 according to Basketball Reference and in those 13 years, led the Celtics to 11 NBA championships. Think about that for a second... He didn't win a championship only twice in his career.
As a 31-year-old who cheers for Minnesota sports teams, I can't even comprehend winning that much. It doesn't seem possible. Rusell went on to be a 12-time all-star, a 5-time MVP, and some consider the best Center to play the game.
Before Russell went on to become an NBA legend he played college basketball for the San Francisco Dons where he played for 3 years, according to Sports Reference. In his final year of college in 1956, he went on to ruin the Iowa Hawkeyes' first ever appearance in the College Basketball National Championship. Not only was this the first appearance in the championship for the Hawkeyes, but it's also been their only appearance ever according to KCRG.
The Iowa Hawkeyes basketball team, from 1953-1956, will go down as one of the most successful basketball teams in the school's history, as well as one of the most successful teams in NCAA basketball history.
Coaches Database reports this 1950s Hawkeyes team won 2 regular season Big 10 championships and made two final four appearances in 1955 and 1956. The Hawkeye's fabulous five consisted of seniors named Sharm Scheuerman, Bill Logan, Carl Cain, Bill Seaberg, and Bill Schoo, all of which averaged double digits in points during the 1955-56 seasons.
Everything was destined for them to win the 1956 NCAA championship until they ran into Bill Russell. According to Sports Report, Russell put up 26 points that game, and San Francisco went on to win 83-71.
The NBA legend sadly passed away on Sunday (July 31-2022) at the age of 88. It's quite possible what he did in his career to win 11 championships in 13 seasons will never happen again.
Iowa Born Sports Stars
What do each of these stellar athletes have in common? They all hail from the Hawkeye State.
Have You Seen All of these License Plates in Iowa?
Here are 25 different license plates you can see throughout Iowa.